Accessible Art Picks in the February Online Auctions
Cowley Abbott's February online auctions are divided into three categories: Canada & Abroad, Three Dimensions, Works on Paper & Prints. I am going to highlight some of my (more affordable) picks and provide a bit of background information as to why I chose them.
In my previous blog post, I mentioned how I like auctions because they expose you to a wide range of art, making you consider some artworks you wouldn't have otherwise sought out. For example, I am generally drawn to abstract art because I studied it in school and it is modern and often colourful. If I were to look to buy art at a gallery I would probably seek out a modern art exhibition. That being said, the artworks that strike me the most in this month's sales would be considered quite traditional: George Reid's Sketch for "Spring" and William Edwin Atkinson Shades of Evening. They are both soft and romantic, with a very impressionistic quality. This goes to show that auctions can open your eyes to new things – they provide the opportunity to surprise yourself!
Etchings are a beautiful type of printmaking that require an impressive and painstaking technique. The image is first etched by hand into a copper plate, then submerged in acid, then run through a printing press. The process requires an incredible attention to detail with essentially no margin for error, and as a result I feel that etchings deserve more attention than they often receive. Manly MacDonald's etching Baker House Close, Edinburgh is a charming and delicate depiction of a Scottish street scene, and it has an estimate of only $250-350.
Marion Post Wolcott was a notable American photographer, best known for documenting poverty and deprivation in the United States during the Great Depression. Her photographs are in the collections of large museums such as the Smithsonian and the Metropolitan Museum of Art. It is exciting to see one of Wolcott's historical photographs from 1939 offered in the February Works on Paper & Prints auction: lot 104, Jitterbugging on a Saturday Night in Juke Joint near Clarksdale, MI, 1939.
Harold Town's Stretch Blue on Grey is a fantastic print. The stretched-out blue bands are fun and would add the perfect pop of not-too-bright colour to a room. It was made in 1971, so it bears that 60s/70s mod aesthetic, yet it could also pass as contemporary. With an estimate of only $300-400, it is really a great opportunity!
Echo by Ivan Eyre is another example of the intricate etching technique, as well as an example of the accessibility of the artist's prints in comparison to his oil paintings. Eyre is a contemporary artist whose work is in demand at the gallery level and auction level. Eyre's acrylic painting Amber Pass was in Cowley Abbott's June 2021 live auction, with an estimate of $80,000-120,000, and the work sold way above the estimate for $228,000. The artist's prints, such as Echo, with an estimate of $300-400, are evidently a much more accessible way to own one of his works. Bonus: it is nicely framed!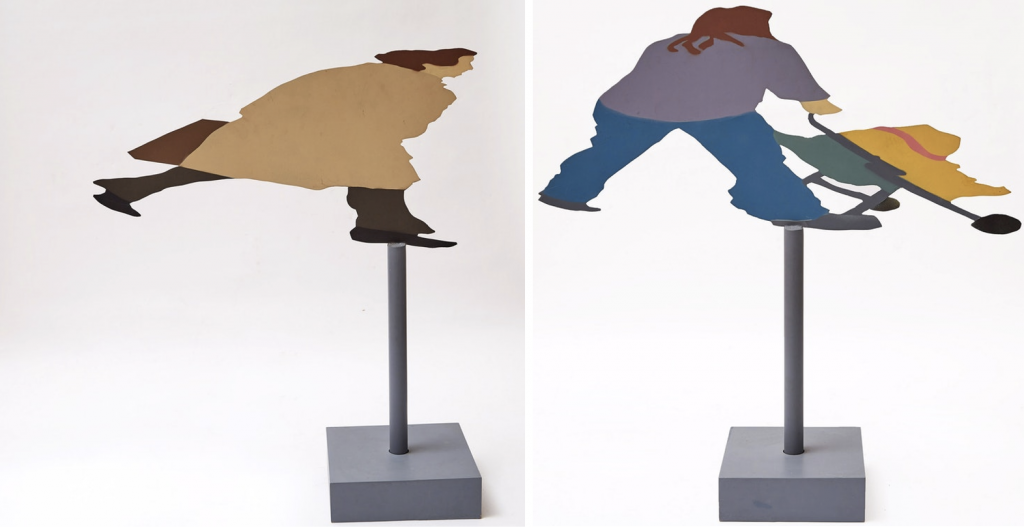 Two aluminum maquettes for Catherine Widgery's art installation "City People"  are being offered in the Three Dimensions sale. Located on Front Street across from Toronto's Union Station since 1989, "City People" consists of various pedestrian figures made of painted aluminum – some are stationary and mounted on the wall, while many are mounted on pedestals. Businessman with Attaché Case and Woman with Baby Carriage are a fun opportunity to own a piece of Widgery's process in creating the famous art installation.
I invite you to browse the three February auction sessions, and feel free to contact us for any further information at [email protected]. The auctions close March 1, 2022.