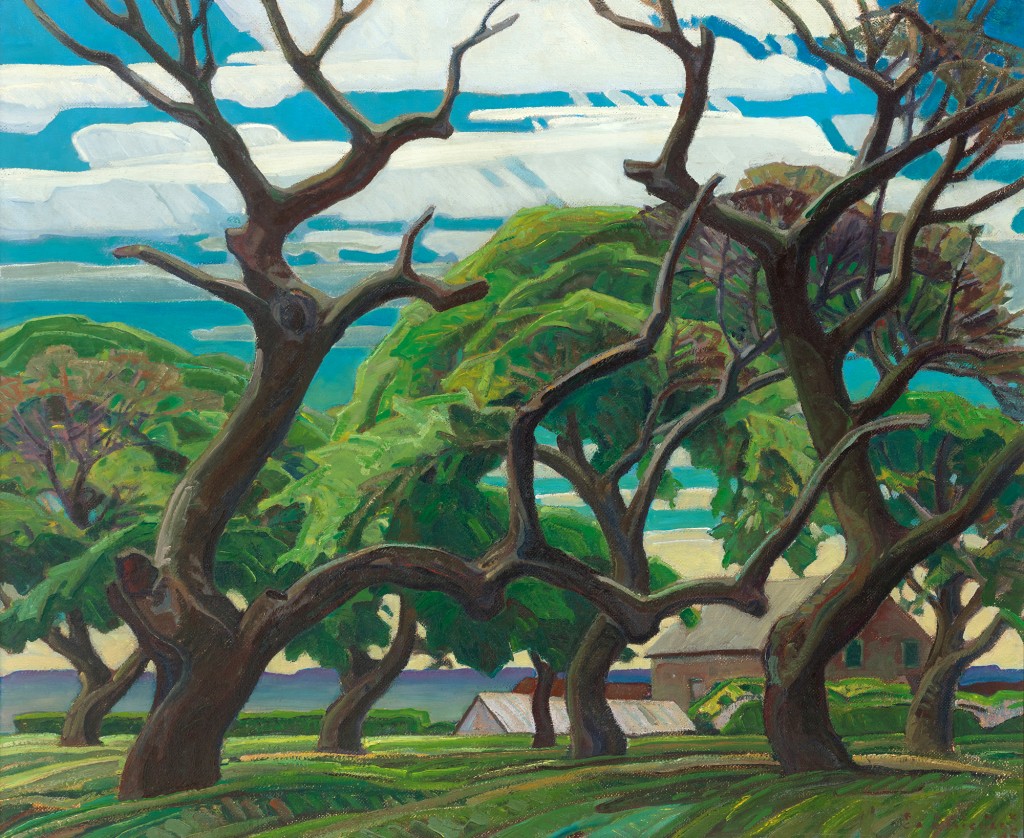 (Toronto – May 2, 2017) Two celebrated artworks by Group of Seven painter Franklin Carmichael are the centerpiece to Consignor Canadian Fine Art's upcoming Spring Live Auction of Important Canadian Art taking place May 25th at the Gardiner Museum, Toronto. A large-scale oil painting, Old Orchard (1940), will make its auction debut having been privately owned by the family of Herbert Laurence Rous, founder of the renown Rous and Mann printing studio where many of the Group of Seven artists began their careers.
The iconic image depicting a neighbour's orchard, painted from the view of his studio in present-day North York, Ontario, was used as the catalogue cover for Carmichael's memorial exhibition at the Art Gallery of Toronto (now the AGO) and the Summer 1947 issue of Canadian Art Magazine, following his death. This will be the first time Old Orchard will be on the auction block (estimated between $500,000 – $700,000); however, given its significance, quality and rarity, the artwork is expected to challenge the current record for a Carmichael painting (Frood Lake sold at auction in December, 2002, for $915,000 including buyer's premium).
As the youngest original member of the Group of Seven, Carmichael is also considered one of Canada's most renowned watercolourists of the twentieth century. Consignor's auction also includes a stunning watercolour, The Bay of Islands (1929) estimated at $150,000 – $200,000, a sister version of Carmichael's Bay of Islands that is part of the Art Gallery of Ontario's permanent collection.
"Franklin Carmichael's accomplishments in oil and watercolour are recognized as some of the greatest work produced by the Group of Seven. Both Old Orchard and The Bay of Islands illustrate Carmichael's mastery of the two media, setting him apart as one of Canada's preeminent painters," says Rob Cowley, President of Consignor Canadian Fine Art. "Old Orchard has stood as an example of Carmichael's best work through its exhibition history over the past 80 years, and we are very excited to be hosting this major work at auction for the first time."
Consignor's Spring auction will also offer two important works by Tom Thomson painted in his early career. A modestly-sized oil on canvas, Road Near Leith (1908), estimated between $100,000 to $150,000, was painted at the start of the decade which would see his transformation into one of Canada's greatest painters; and Fallen Timber (Algonquin) (1912), estimated at $150,000 – $200,000, was painted the first year that Thomson visited Algonquin Park where his most iconic works would be created, and ironically the site of his untimely death in 1917, exactly 100 years ago this July.
"It's an incredible time for Canadian art as we celebrate our country's sesquicentennial, alongside unprecedented growth and global attention for painters such as Tom Thomson, Lawren Harris and the Group of Seven and now a feature film about Maud Lewis's life — combining to reinvigorate the public's fascination and appreciation for Canadian artists," says Lydia Abbott, Vice President, Consignor Canadian Fine Art. "The Spring auction features artwork that spans the entire 150 years of Canada's history and presents a rich narrative of our cultural fabric."
Other notable Canadian works of art that will be highlighted in Consignor's live Spring auction include:
Live Previews are currently taking place at the Consignor Canadian Fine Art Gallery located at 326 Dundas Street West and viewable at Consignor.ca.  Consignor's Spring Live Auction of Important Canadian Art will take place on Thursday, May 25th, 2017 at the Gardiner Museum located at 111 Queen's Park, Toronto.
Since its inception in 2013, Consignor's live and online auctions have included headline-grabbing works such as a rare 100-year-old Tom Thomson portrait (Daydreaming, sold for $172,500), an undiscovered William Kurelek (Ukrainian Proverb, sold for $41,400), and Jack Bush's Summer Lake broke online auction records in May 2014 for the most expensive painting by a Canadian artist to be sold at an online auction ($310,500). Most recently, Consignor's inaugural live auction event in May 2016 set the record for the highest-selling Algoma sketch by Lawren Harris, fetching $977,500; tripling the previous auction record.
Consignor Canadian Fine Art is currently accepting consignments for its upcoming auctions, including the June Online Auction of Canadian and International Artwork, with bidding open at consignor.ca from June 7-14, 2017. Consignor offers all-inclusive selling commissions and the lowest buyer's premium in the industry. Those interested in consignment can arrange a complimentary and confidential consultation by contacting Consignor's specialists at 1-866-931-8415 or [email protected].