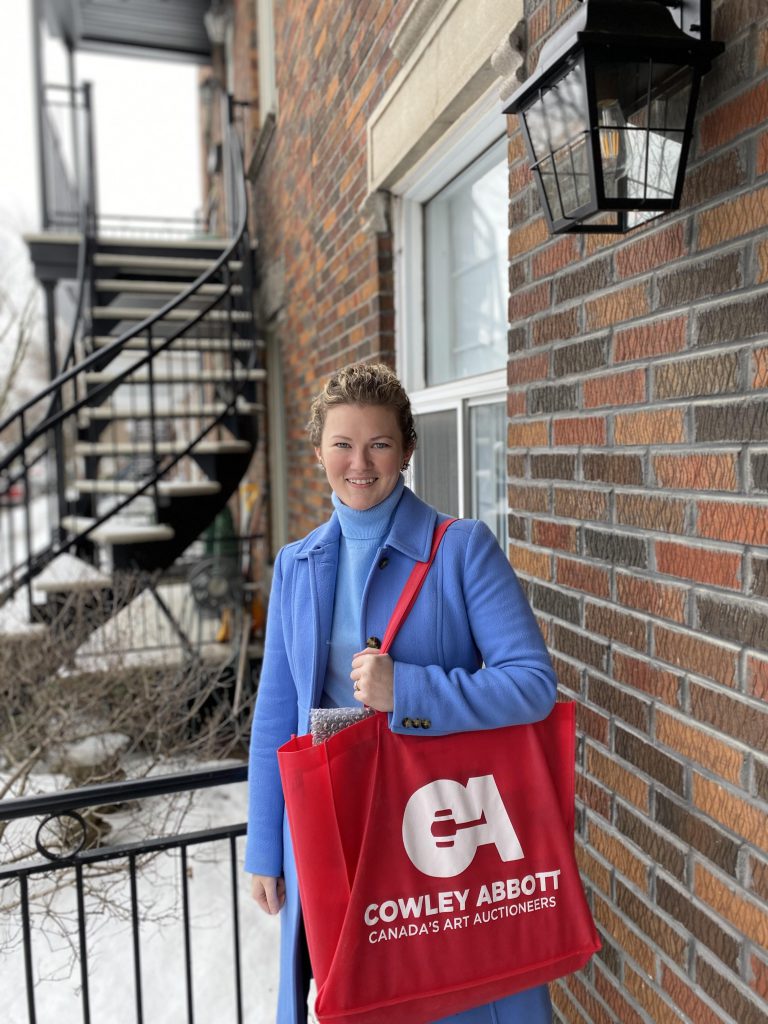 Katherine is our Montreal Representative with nine years of experience in the Canadian auction industry. Together with her academic background in art history, she has developed a specialty in the Canadian post-war abstract art movements. She is passionate about writing – on topics of fine art, art collecting, and the auction world.
Katherine, you have been a member of the Cowley Abbott team since 2016 and your role has greatly evolved over the last few years. You now reside in Montreal, your hometown, and act as our Montreal representative – a very exciting development for the firm as we begin to represent the country from coast to coast! Can you share how your role at the auction house has advanced and what services you now provide for the province of Quebec?
I started working at the Cowley Abbott Toronto gallery in 2016 in a Client Services position, and then became a Canadian Art Specialist in 2018. In 2020, during my maternity leave, I moved to Montreal and returned to Cowley Abbott as the Montreal Representative. My current role involves many of the same aspects as when I lived in Toronto, such as online valuation inquiries and writing for the auction catalogues, but I am also excited to now offer a face-to-face and bilingual service in Montreal and its surrounding areas. I meet with clients in person to view and pick up artworks, and I organize regular shipments to Toronto for a hassle-free consignment process. I have to say though, I do miss Toronto and seeing the Cowley Abbott team in person on a regular basis, and I am really looking forward to more trips back to the city in this upcoming year!
As a lover of art, you have always promoted collecting art at auction and we know that you wish to encourage younger audiences to become active in the auction world. Can you tell us a little bit about why this topic interests you? You have started a new blog on art collecting at CowleyAbbott.ca. We can't wait to read the next instalment!
I am an art historian and art lover, though I feel very strongly that art can be appreciated at many levels and price ranges. Of course, I swoon over the enormous Riopelle and Borduas paintings at museums, but I also get excited about a $300 etching that can bring colour or charm or mood to your own walls at home. There has been a recent resurgence of interest among young people in home decor that is unique, vintage and sustainable, rather than what you'd find at a big box store. I think this trend is also carrying over into art collecting, and online auctions are the perfect fit for this audience, being a platform for finding original and quality artworks at a wide price range. My blog aims to dispel some misconceptions about the auction world and make it approachable to new collectors. So stay tuned!