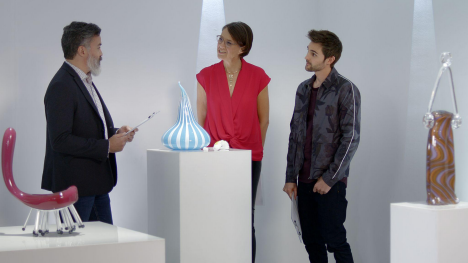 Cowley Abbott has rapidly grown to be a leader in the competitive Canadian auction industry since its foundation. Our expansion into the international art market with a dedicated department and the offer of a rare painting by the enigmatic superstar David Bowie in our first International Art Auction in June 2021 led to notable exposure for both the artwork and the firm, selling for $108,120 (a new global auction record). We invite you to become acquainted with our specialists in our new blog series and learn more about Cowley Abbott's pivotal role in the auction industry.
Perry Tung, Senior Canadian and International Art Specialist
Perry is a fine art specialist and auctioneer with over 20 years of experience in both the primary and secondary art markets, with knowledge of both Canadian and International Art. Perry joined Cowley Abbott in December of 2020 and began building the International Art Department, a very exciting venture for the auction house. Did you know that Perry has volunteered his time for countless charity auctions over the years and also was a guest judge on a hit tv television show?
Perry, you have been a regular commentator and lecturer on Canadian art and the auction market in Canada during your years in the industry. As a guest judge on an episode of the acclaimed Netflix show, Blown Away, you had the opportunity to work directly with artists and witness glassblowers creating artworks in real time. Tell us more about this experience and how you came to be involved. Any memorable moments from Pop Art Blowup?
One of the show's creators saw a tv interview I had done and contacted me. We met, they pitched the show and a couple of months later we were filming the episode. The most memorable thing was learning about glass blowing, the terminology and techniques. It was amazing to be in the hotshop with these talented artists and watch them create something inspired by Pop Art.
Also, readers should note that "Blown Away" is still available to watch on Netflix! Tune in and watch Perry evaluate the talented contestants!
Each year you volunteer your time as an auctioneer for various charity events across Toronto, including Art with Heart's Contemporary Fine Art Auction benefiting Casey House and Snap! A Contemporary Canadian Photography Auction for the Aids Committee of Toronto. These are fantastic causes! How long have you been volunteering as an auctioneer for these charity auctions? When do Art with Heart and Snap! take place this year? We are excited!
I've been involved with Art with Heart for eighteen years and with Snap! for about fifteen years. This year is the Twentieth Anniversary of Snap! and we are excited to host the live broadcast from Cowley Abbot on March 24th. Art with Heart will be in October this year and we are delighted to host the previews again at our galleries.
Perry Tung can be reached directly by e-mail at [email protected] Stay tuned for the next installment of "Introducing the Cowley Abbott Team" in a week!