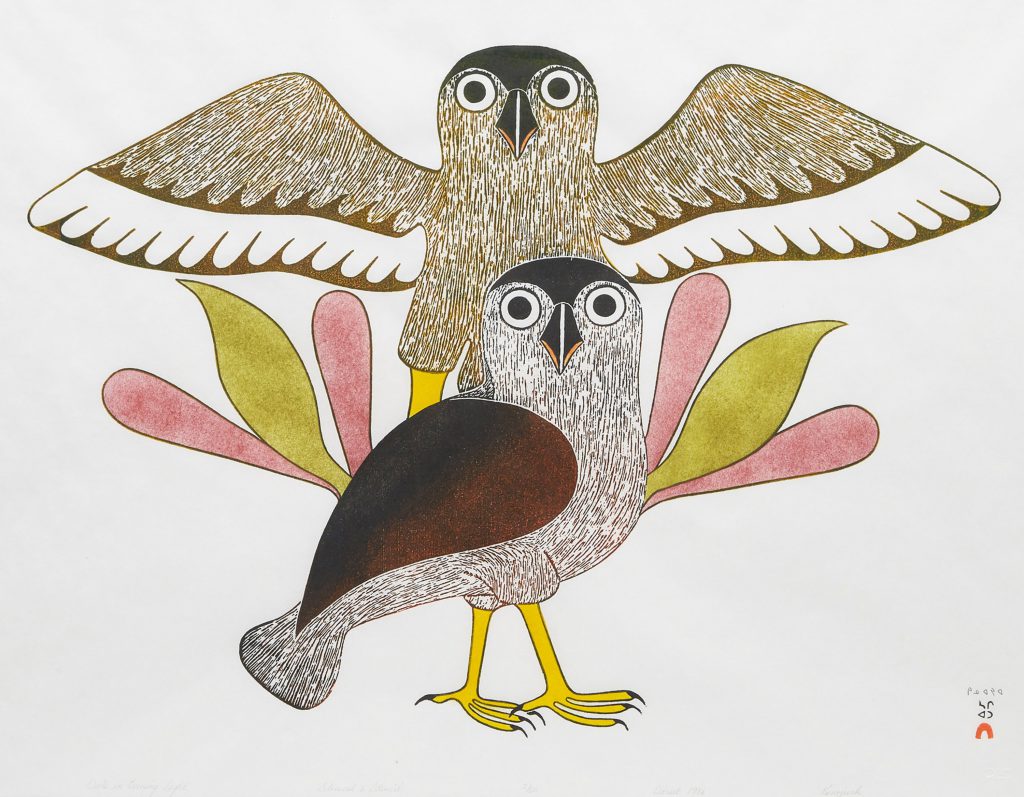 Our March 2021 Online Auction of Indigenous and Inuit Artwork offers a fantastic opportunity for collectors to diversify their collections with important works from renowned artists.
Indigenous Art encompasses a variety of styles, practices and techniques from living cultures based outside of European, or Eurocentric traditions. Indigenous Art is the longest living art form in Canada, a highly dynamic form of art grown out of cultural continuity and expression, drawing upon themultilayered voices of people who have inhabited these lands for generations. Art is an integral part of the preservation and expression of culture, and Indigenous Art celebrates the heritage and traditions of the First Nations, Metis and Inuit.
Cowley Abbott is pleased to present a unique selection of commanding artworks by Indigenous artists, which reflect the customs and culture of the Indigenous in an array of art forms from sculpture, to textiles, to print works.
Bill Reid, "Eagle"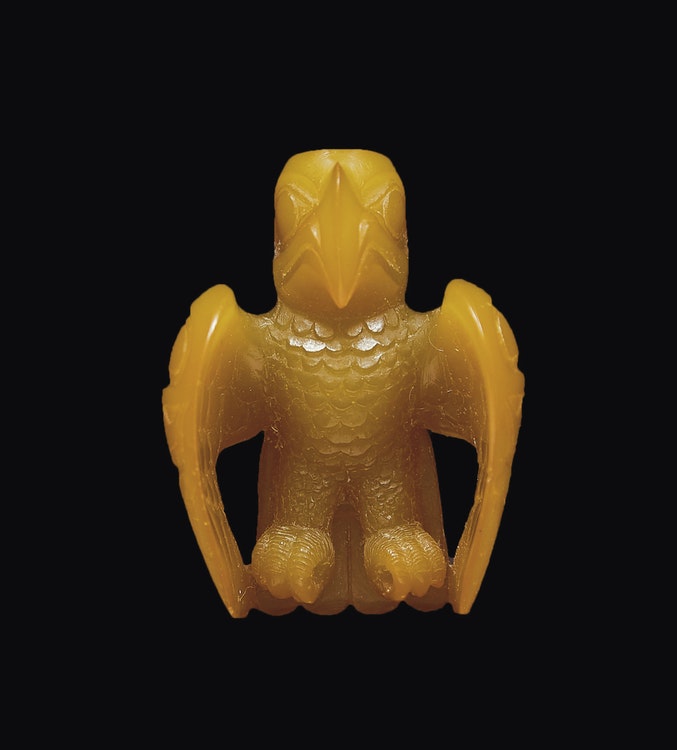 The fusion of Haida traditions with a modernist technique is quintessential to Bill Reid's artwork, resulting in the creation of exquisite works ranging from the diminutive to the monumental. Reid mastered several media, including carving in silver, gold, wood and argillite, referring to himself as "a maker of things" rather than an artist. He crafted objects of adornment that were variations on traditional crest designs or identity symbols, such as this delicately carved pendant. "Eagle" exemplifies Reid's mission to express the visual traditions of his ancestors in a contemporary form, mastering his complexity of three-dimensional forms. Reid had studied the culture and myths of the Haida in the course of his research, adapting carving designs and works illustrated in anthropological literature, seeking to reference the fundamental techniques of historical Haida art. The figure of the Eagle is an important being in the oral history of the Haida, respected for its intelligence and power as a hunter.
"Eagle" is an elegantly executed Haida-inspired design, related to a 1969 fossil ivory work, "Eagle Pendant" (Collection of Sherrard Grauer). As noted by Karen Duffek, "A pendant of fossil ivory made in 1969 presents the Eagle in a manner still related to past imagery but already hinting at Reid's forthcoming carving, 'The Raven Discovering Mankind in a Clamshell' (1970, Museum of Anthropology, UBC). It is primarily in the finely carved feathers, the arched wings, and the configuration of two-dimensional elements that a continuity of image can be seen.
"Norval Morrisseau, "Thunderbird Young"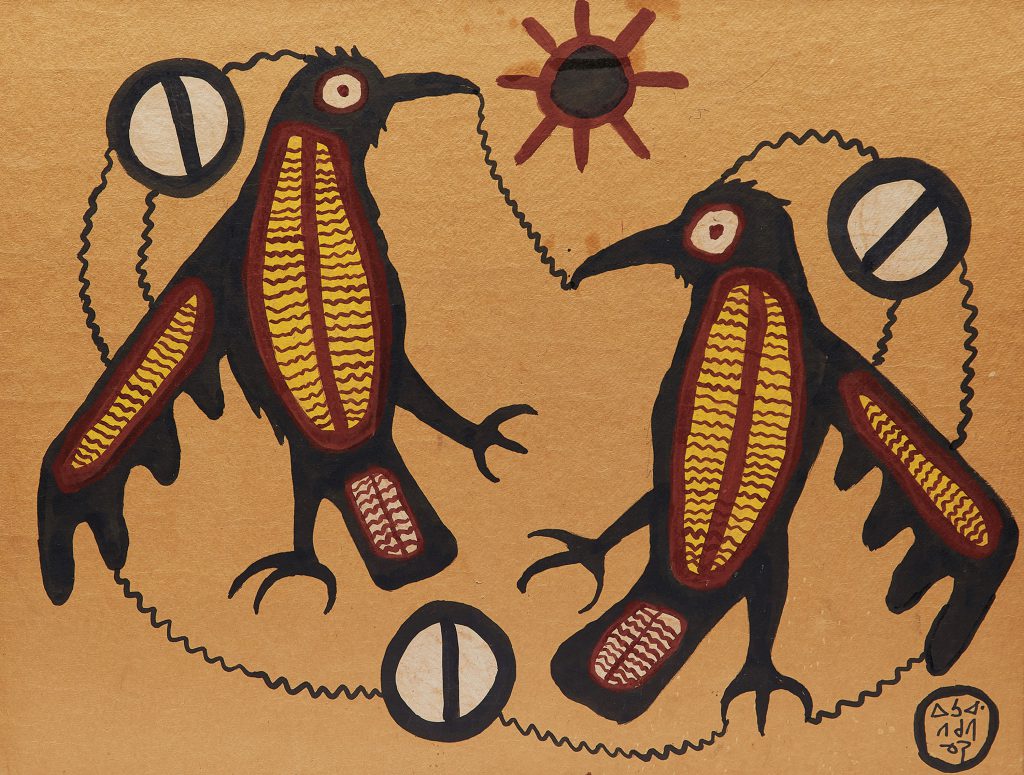 Ground-breaking artist Norval Morrisseau, born in 1931 in Sandy Point Reserve, Ontario, worked beyond European- based conventions and drew from Anishinaabe cultural traditions to develop his powerful and unique artistic vision.Morrisseau was a member of the Royal Canadian Academy of Arts since 1970 and is celebrated founder of the Woodland School, which revitalized Anishinaabe iconography, traditionally incised on rocks and Midewiwin birchbark scrolls. A self-taught painter, printmaker, and illustrator,Morrisseau created an innovative vocabulary which was initially criticized in the Native community for its disclosure of traditional spiritual knowledge. Hiscolourful, figurative images delineated with heavy black form lines and x-ray articulations, were characteristically signed with the syllabic spelling of Copper Thunderbird, the name Morrisseau's grandfather gave him.
"Thunderbird Young" is an excellent example of the artist's signature kraft card artworks with emphasis on strong line, bold colour, and articulation of his cultural heritage through visual arts.
Kenojuak Ashevak "Owls in Evening Light" and "Timiatjuak"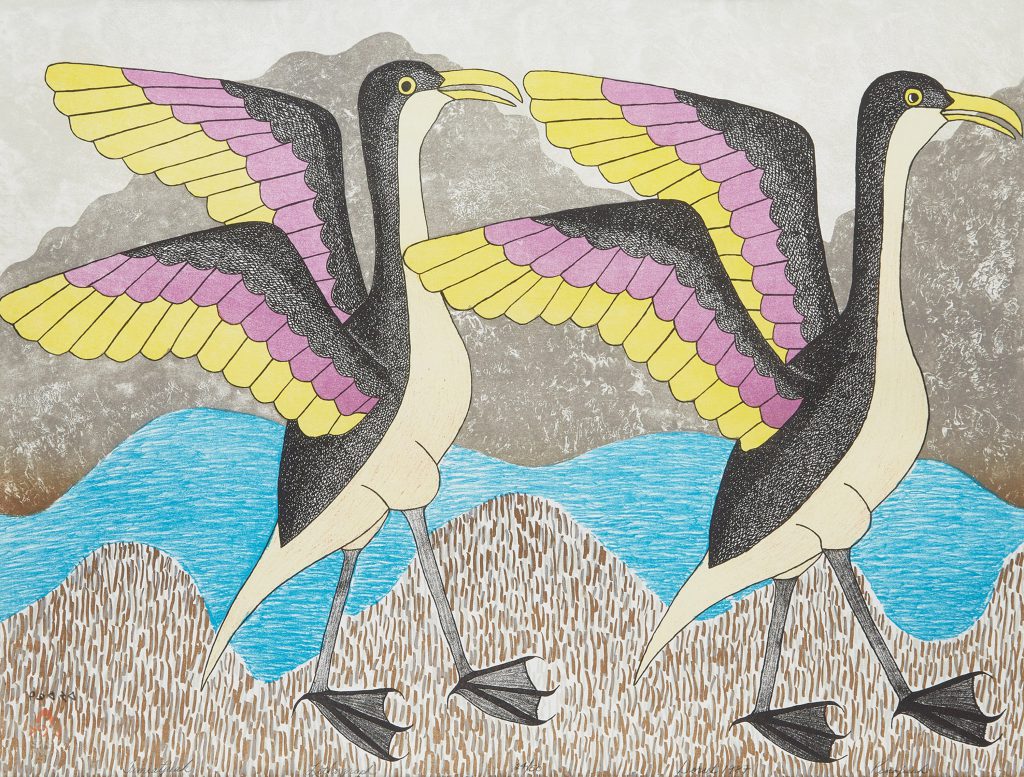 Kenojuak Ashevak has created some of the most recognizable images in Canadian art. Images of bold graphic owls in fiery reds and ink blacks are some of the artist's most popular works. Kenojuak embraced printmaking in the 1960s and 1970s after first beginning her drawing practice in the late 1950s in Kinngait (Cape Dorset). In 1961, she was the subject of a film produced by the National Film Board of Canada on her life and work, which was key to introducing the artist more globally. Kenojuak travelled around the world as an ambassador for Inuit art and won numerous awards and honours, including the Order of Canada, a Lifetime Achievement Award at the National Aboriginal Achievement Awards, the Governor General's Award for Excellence in the Visual Arts, and was the first Inuit artist to be inducted into Canada's Walk of Fame.
Winnie Tatya, "Figures and Animals"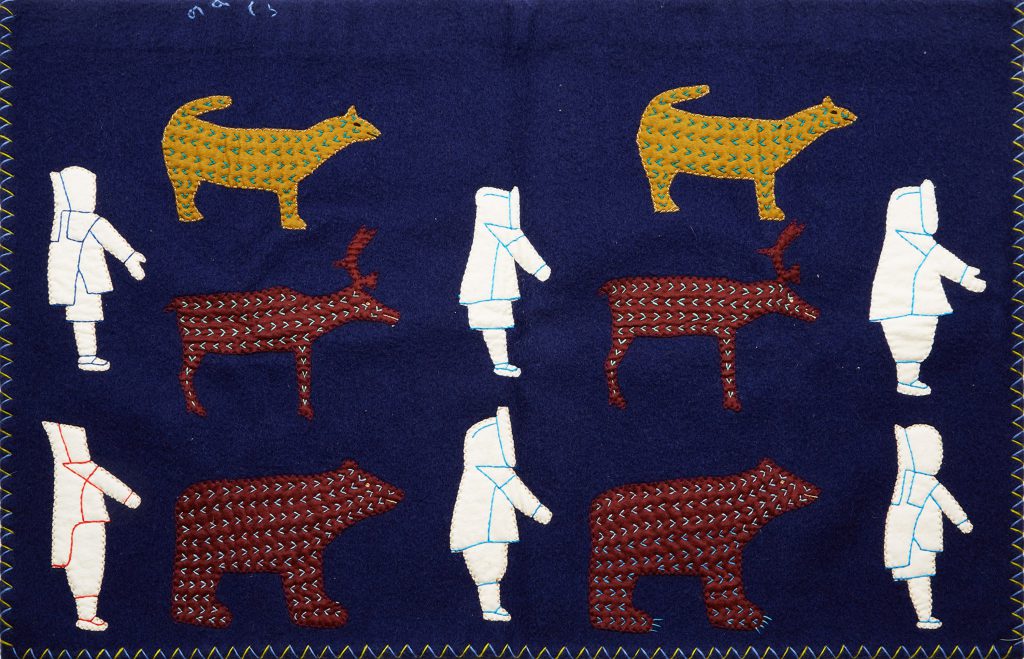 Born in 1931, Winnie Tatya is a widely exhibited and celebrated multi-disciplinary artist who is recognized for her tapestry works of figures and animals. Often using brightly coloured felt to create the figures and animals, Tatya uses complementary embroidery floss to add pattern, design and texture to the works. Graphic in nature, the wall hangings make for beautiful storytelling pieces in "classically organized compositions…all tightly embroidered with great and rewarding care." The artist has exhibited her works with the Vancouver Art Gallery, the Art Gallery of the Canadian Embassy organized by Arctic Inuit Art, the Winnipeg Art Gallery, Bayly Art Museum at the University of Virginia, among many others. Her work resides in the collections of the National Gallery of Art, the Canadian Museum of Civilization, the Edmonton Art Gallery, the Winnipeg Art Gallery, the University of Alberta, and the Inuit Cultural Institute, amongst many other prominent private collections.
A variety of stone sculptures by artists such as Sheokjuk Oqutaq, Kumukuluk Saggiak, Napachie Ashoona, Thomassie Tukai and Johnny Tunnillie are featured in the current online auction and make for wonderful three-dimensional additions to create a dynamic, varied and powerful collection of artwork.
For more information on this auction, our consignment process and details regarding our upcoming September Online Auction of Indigenous and Inuit Artwork, please contact us at [email protected] and one of our specialists would be delighted to assist you.
Literature Sources:
Robert Kardosh, "Works on Cloth, Imagery by artists of Baker Lake, Nunavut," Marion Scott Gallery, 2002, page 10
Martine J. Reid, "Bill Reid Collected", Douglas & McIntyre/ The Bill Reid Foundation, Toronto, 2016, page 83 for related work, "Eagle Pendant" (1969)
Karen Duffek, "Beyond the Essential Form", University of British Columbia, Vancouver, 1986, page 43
Peter L. Macnair, Alan L. Hoover and Kevin Neary, "The Legacy: Tradition andInnovation in Northwest Coast Indian Art", Toronto/Vancouver, 1984, pages 85-86