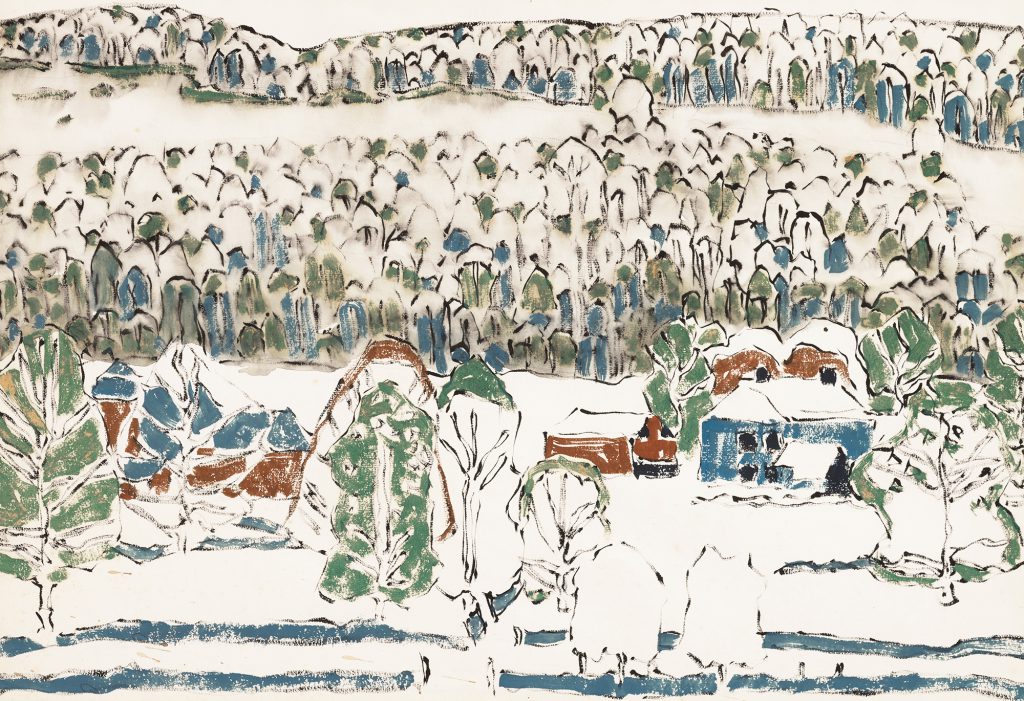 Related work to Harris' Record-Breaking Algoma sketch hits the Block with Masterworks by David Milne & Claude Tousignant debuting at Consignor Canadian Fine Art's Spring Live Auction on May 28
May 1, 2019 (Toronto, ON) – Lawren Harris rarely repeated subject matter, but the familiar depiction of Algoma, an island of tall trees, was a pivotal scene for the renowned Canadian artist, serving as the focus of several large-scale canvases. In 2016, Consignor Canadian Fine Art's inaugural live auction event set the record for the highest-selling sketch of the Algoma region by Lawren Harris, fetching $977,500, tripling the previous auction record. Now, two new Harris sketches of the area will go on the auction block at Consignor's Spring Live Auction of Important Canadian Art, taking place May 28 (7pm) at Toronto's Gardiner Museum.
Algoma Sketch XCII (Algoma Autumn), painted in 1920, marks an important place in Canadian art history, portraying the region where the Group of Seven embarked on their first sketching trips as an official association. The colourful oil sketch depicting a densely populated forest scene is being offered with an auction estimate of $150,000 to $250,000.
Another of Harris' works, Algoma, is a graphite drawing depicting the familiar island scene and serves as a related work for major canvases by the artist, including paintings at the Vancouver Art Gallery and the Boston Museum of Fine Arts. The graphite sketch has an estimated value of $15,000 to $20,000 but could exceed expectations based on the strong past performance at Consignor's auctions of Harris' graphite studies including the sale of Lake Superior in 2017 for $161,000, a record for a Harris work in this medium.
"Lawren Harris' work continues to captivate collectors and art enthusiasts across Canada and beyond our borders, and we are already witnessing a great deal of interest and excitement for the two Harris artworks included in our upcoming auction," said Rob Cowley, President of Consignor Canadian Fine Art. "No matter the medium, Harris' Algoma compositions are a fascinating display of the region and his development as one of our Canada's most renowned artists. We are proud to have achieved record-breaking results for Harris' work in oil and graphite over the past few years and are pleased to offer two works connected to such a pivotal area and period for Harris and the Group."
David Milne's Soft Hills (Misty Hills) (Boston Corners, N.Y.), a masterful watercolour painted by the artist in 1917 also appears for the first time at auction at the May 28th evening sale. Composed shortly after Milne and his family moved to the small village of Boston Corners, watercolours from the region are considered to be some of Milne's most iconic, this stunning work a perfect example, on offer with an auction estimate of $40,000 to 60,000.
Other notable artworks featured in Consignor's Spring Live Auction include:
The auction includes strong examples by many of Canada's most important historical artists including the Group of Seven (A.Y. Jackson, J.E.H. MacDonald, Frederick Varley, Franklin Carmichael, Frank Johnston and Edwin Holgate), M.A. Suzor-Coté, and Robert Pilot, as well as renowned post-war and contemporary Canadian painters such as Jack Bush, Harold Town, Walter Yarwood, Ray Mead, Rita Letendre, Guido Molinari, Ken Lochhead, Sorel Etrog, Bill Reid, Robert Bateman, Maud Lewis and Joe Fafard, among others.
Live previews are currently taking place at the Consignor Canadian Fine Art Gallery located at 326 Dundas Street West and viewable at consignor.ca. Consignor's Spring Live Auction of Important Canadian Art will take place on Tuesday, May 28, 2019 at 7pm at the Gardiner Museum located at 111 Queen's Park, Toronto, ON. The auction's second session will be held online, with more than 150 works of art available for bidding between May 22 to June 5, 2019.