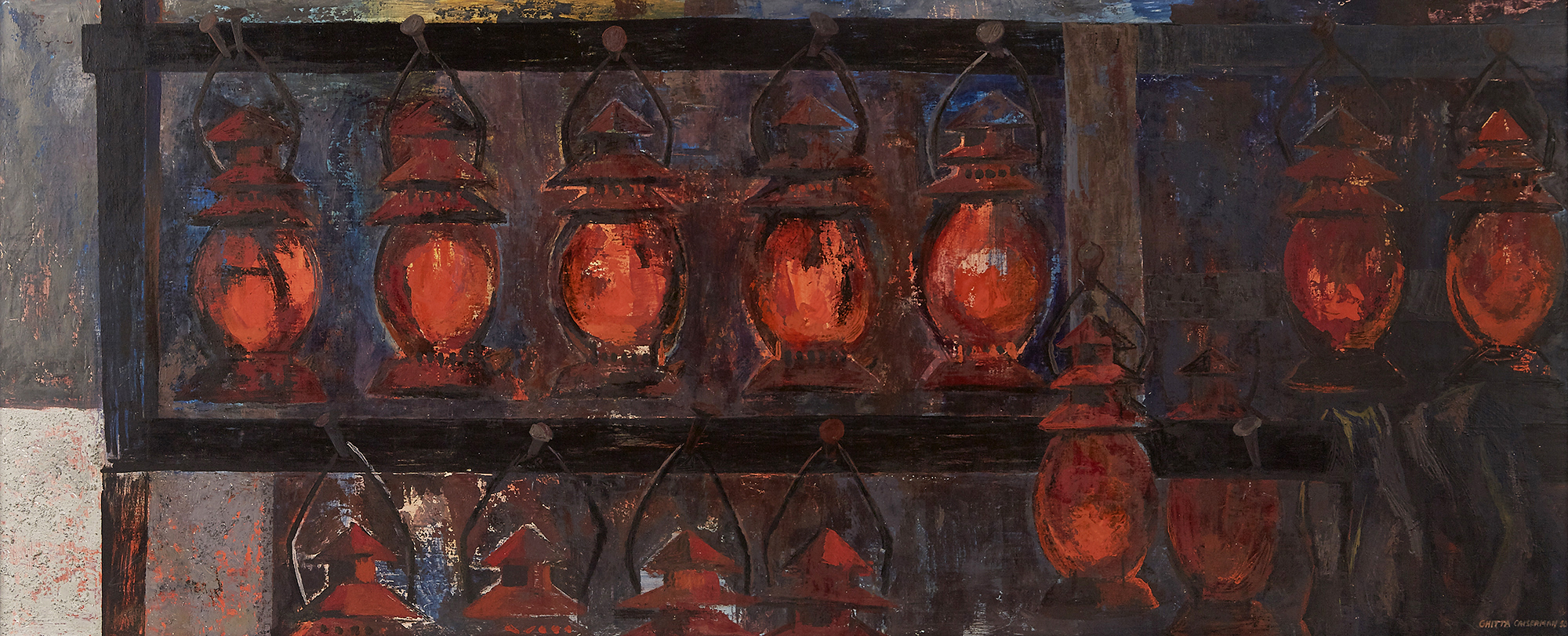 With 262 lots in our March Online Auction of Canadian and International Art, we see artwork for sale with a very large range in value. Although the covetable A.J. Casson and Albert Henry Robinson oil paintings garner much attention from seasoned collectors, it is worth noting the remarkable value and quality of the many more modestly priced artworks for sale. While estimates range from $50 to $15,000, there can be a tendency to believe that only the high-profile items are relevant and worthy of attention within the art market. There is also a misconception that art auctions do not offer anything affordable to begin with. The reality is that art of good quality and value can be found at any price, and an art auction can be the ideal place to find it.
If you have an interest in starting an art collection, an auction is a perfect place to do so and should not be intimidating. The quality and value of the lower estimated artworks can be far superior to something of the same price at a commercial gallery or retail store. I have compiled a selection of nine noteworthy artworks from our March online auction, in a variety of styles and mediums, each of which are estimated to sell for below $1000. As a young professional in the art world, I would like to demonstrate that it can be accessible to all, regardless of one's budget. The concept of building an art collection does not have to be so far out of reach.
A few things to keep in mind: The estimate is our prediction of the selling price based on previous sales of similar works at auction – however, it is possible for the work to sell for below or above the estimate. Also note that a buyer's premium of 15% and applicable taxes are added to the final selling price of an artwork. All of the following artworks are framed, avoiding any extra costs and making it easy to instantly hang up on a wall.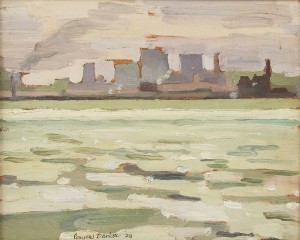 Lot #30
Ernest C. Barker
Toronto Skyline
oil on board
signed and dated '28 lower left; signed, titled and dated 1928 on the reverse
8.5 x 10.5 ins ( 21.6 x 26.7 cms )
Estimated: $300.00 – $500.00
For the Toronto native or admirer of architectural history, this original oil painting illustrates a very early view of Toronto's skyline – dating to 1928. The semi-abstract composition in mint green and lavender provides a rare depiction of Toronto from a past time.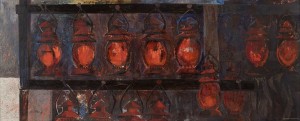 Lot #90
Ghitta Caiserman-Roth
Lanterns
oil and gouache on masonite
signed and dated 50 lower right
22 x 54 ins ( 55.9 x 137.2 cms )
Estimated: $500.00 – $700.00
For the year 1950, the artwork has a very contemporary aesthetic to it, in the quasi-abstract lanterns and moody colour scheme. A Montreal native, Caiserman-Roth studied at the Parsons School of Design and Art Student League in New York, as well as the Musee des Beaux Arts in Montreal.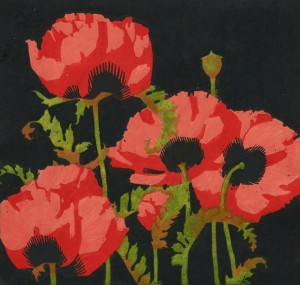 Lot #132
A.J. Casson
Oriental Poppies
linocut
signed, numbered 27/30 and dated 1986 in the lower margin
7 x 7.5 ins ( 17.8 x 19.1 cms ) ( subject )
Estimated: $400.00 – $600.00
Casson was a prominent member of the renowned group of Seven, the most internationally recognized association of Canadian artists. While his oil Sombre Day, Lake of Bays is the highest valued artwork in the March auction, the prolific artist produced numerous prints which sell for a more modest price. The brightly coloured flowers of this linocut has a fresh, modern palette and Pop Art quality to it.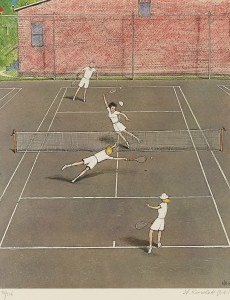 Lot #143
William Kurelek
The Slam
colour lithograph
signed within plate; signed and numbered 96/225 in the lower margin
12 x 9.5 ins ( 30.5 x 24.1 cms ) ( subject )
Estimated: $400.00 – $600.00
For the sports fan, Kurelek's lithograph is a playful, whimsical rendition of a mixed-doubles tennis match. A very popular artist whose original works sell for high prices, Kurelek's prints are still very much in demand, though at a much more affordable price range.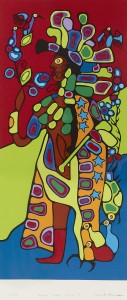 Lot #161
Norval Morrisseau
Shaman Astral Guide II
colour serigraph
signed, titled and numbered 91/220 in the lower margin
29 x 13 ins ( 73.7 x 33 cms )
Estimated: $300.00 – $400.00
A self-taught painter, printmaker, and illustrator, Morrisseau's colourful images depicting First Nations subjects were initially criticized in the Native community for its disclosure of traditional spiritual knowledge. Morrisseau came to develop a very strong reputation, completing many commissions including the Indians of Canada Pavilion at Expo 67. This large serigraph offers a very colourful addition to a room, along with carrying cultural significance.

Lot #172
Jane Hinton
Brooklyn Bridge Double (1994-99)
silver print
edition 1/10
14 x 40 ins ( 35.6 x 101.6 cms )
Estimated: $400.00 – $600.00
A contemporary Toronto photographer, Hinton has exhibited internationally and her work is found in numerous collections around the world. The artist is particularly fascinated by bridges, with Brooklyn Bridge Double (1994-99) being an example. Hinton's work is currently for sale at an art gallery at much higher prices.
Lot #174
Ed Bartram
Island Cove, Georgian Bay
etching with hand colouring
signed, titled, dated 1998 and inscribed VE 1/10 in the margin
25.5 x 31 ins ( 64.8 x 78.7 cms )
Estimated: $500.00 – $700.00
Ed Bartram provides a very contemporary take on the Group of Seven's favourite subject: Georgian Bay. The large size, brand-new frame and jewel-toned blues make this etching an eye-catching addition to any room and art collection.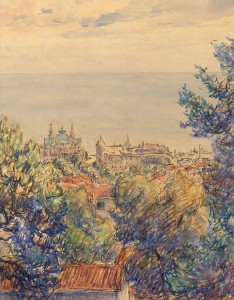 Lot #201
Frank Armington
Monte Carlo
watercolour
signed lower right, titled and dated 1919 lower left
15.5 x 12.25 ins ( 39.4 x 31.1 cms ) ( sight )
Estimated: $600.00 – $800.00
Armington is a Canadian born and raised artist, although the majority of his work depicts European scenery. Based in Paris from 1905 to 1939, the artist portrayed French urban and rural landscapes in a variety of mediums, including etchings, lithographs and watercolours.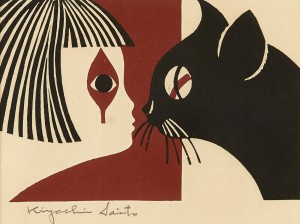 Lot #217
Kiyoshi Saito
Girl with Cat
block print
signed in lower margin
5 x 7.25 ins ( 12.7 x 18.4 cms ) ( subject )
Estimated: $300.00 – $400.00
This adorable woodblock print seems to speak for itself. Saito was one of the first Japanese printmakers to have won at the Sao Paulo Biennale in 1951.