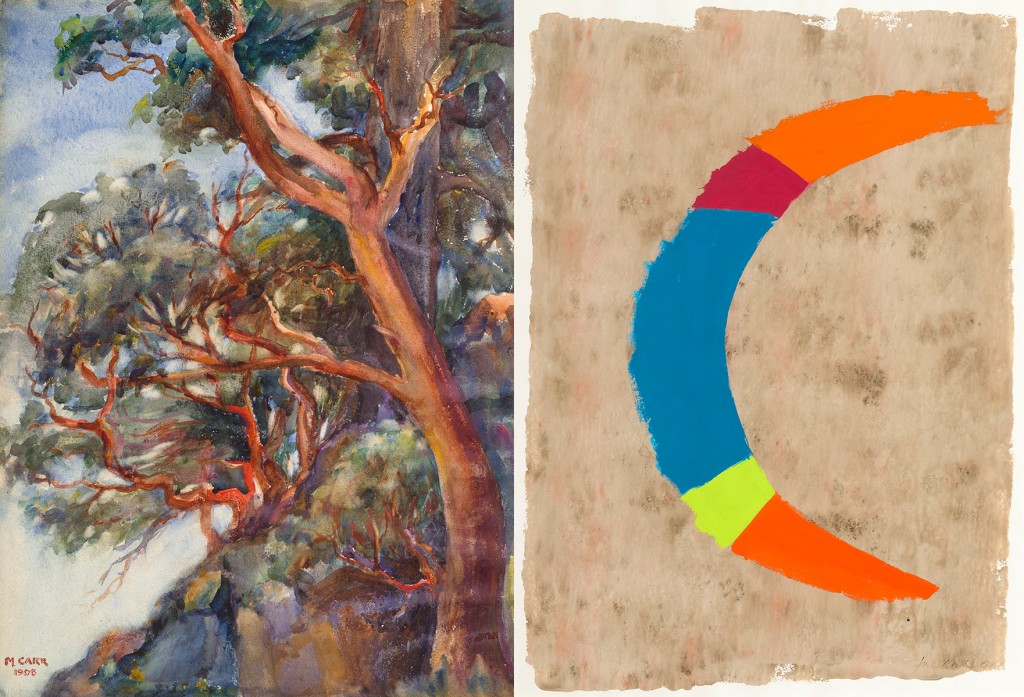 (Toronto – April 28, 2015) – On the heels of a much lauded Emily Carr retrospective exhibit at the Art Gallery of Ontario, lies directly across the street at Consignor Canadian Fine Art, a rare and exceptional earlier work by Carr that has never been seen before by the public. Arbutus Trees (1908), a 14.5" X 10.75" watercolour (estimated value $50,000 – $70,000), was acquired by a private owner directly from Carr herself, who at the time was an aspiring artist honing her craft. It has since remained in the family's estate for more than a century, and will hit the auction block for the first time at Consignor Canadian Fine Art's Spring Auction of Important Canadian Art, May 20 – 28, at consignor.ca.
"Consignor continues to find works of art by renowned artists that are rare, first-at-auction, and previously unknown gems to introduce into the online auction marketplace; and most often, it's these exceptional pieces that have the highest potential to grow in value," said Rob Cowley, President of Consignor Canadian Fine Art.
Also making its auction debut is Jack Bush's Quarter Moon (1975), which until now has only previously been offered through two galleries in New York and Toronto. Consignor has had outstanding results with works by Jack Bush including two canvases that sold in May 2014 for $310,500 and $299,999, the highest values ever paid in an online auction for Canadian works of art.
Other notable highlights in Consignor's Spring Auction of Important Canadian Art include A.Y. Jackson's Shoreline, Georgian Bay estimated to sell between $60,000 – $80,000; along with works by fellow Group of Seven members Frederick Varley, A.J. Casson, L.L. Fitzgerald, Edwin Holgate and Frank Johnston; and historical artists such as John Lyman, A.H. Robinson, Maurice Cullen, Nora Collyer and J.W. Beatty.
The sale also features strong examples by contemporary Canadian artists, including: Jock Macdonald, Harold Town, William Perehudoff, Ivan Eyre, Louis Comtois, Robert Bateman, John Little, John Kasyn, Tom Forrestall, Norval Morrisseau, Arthur Shilling, Maud Lewis, Joe Fafard, Alex Cameron and John Scott, among others.
Approaching only it's second year as an art auction house, Consignor Canadian Fine Art has achieved record-breaking results for art sold online and various artist records, including headline-grabbing works such as a rare 100-year-old Tom Thomson (Daydreaming, sold for $172,500) and an undiscovered William Kurelek (Ukrainian Proverb, sold for $41,400). Consignor's offering of Jack Bush's Summer Lake set the record last spring for the most expensive painting by a Canadian artist to be sold at an online auction ($310,500), and its June 2014 auction saw eight artists' records broken.
"We're seeing buyers from all backgrounds, and from across Canada, the US and Asia," said Lydia Abbott, Managing Director, Consignor Canadian Fine Art. "We're rapidly gaining new clients who appreciate the process of online bidding which removes the intimidation factor and provides a fair and inclusive platform for everyone, whether a seasoned investor or new-found art enthusiast making their first art purchase."