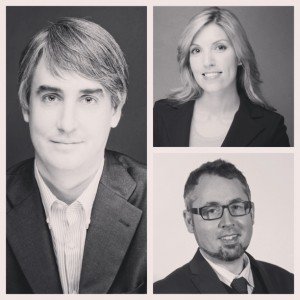 just months after sotheby's canada announced its departure from the world of canadian fine art auctions, a new tech-forward auction house has announced its plans to step-up and take some of the action.
consignor canadian fine art, which will officially open its doors on august 1st, is a partnership between rob cowley (former vice president and chief auctioneer with joyner waddington's canadian fine art), lydia abbott (former canadian fine art specialist with joyner waddington's) and ryan mayberry (mayberry fine art).
situated thoughtfully across from the art gallery of ontario at 326 dundas street west, consignor will offer a full range of both auction and appraisal services, leading towards its first semi-annual auction in november.
heffel fine art, canada's leading fine art auction house, which many believe has been celebrating sotheby's departure, will likely take note, as this is not just another new kid on the block, but rather a strategic partnership of experienced forces within the canadian art world.
setting itself apart from other auction houses is the fact that their auctions will be online only. the previews however, will be extended and live in the new toronto gallery location.
"this strong new partnership provides both a dynamic team and a dedicated space that allows us to fully bridge the gap between traditional auction services, the online marketplace, and confidential private sales," says ryan mayberry.
rob cowley and lydia abbott respectfully timed their departure by waiting to make an announcement after the annual joyner spring sale.
we love to see healthy competition in the marketplace, and are now especially looking  forward to the canadian fall auction season.
here are some of the questions we had for consignor:
what are the key differentiators of consignor canadian fine art vs. other canadian fine art auction houses?
at consignor we are focused on where this industry is heading not where it has been.  we are constantly meeting younger and younger collectors that have a different relationship with technology and information. we are modeling our bidding process and use of technology around the expectations of the "connected" generation while offering a level of service and professional experience seasoned collectors have come to expect.
joining forces with rob and lydia is a big step. how do you anticipate others in the industry will react?
i think we will have a very strong level of support from the rest of the industry.  it's been from the ongoing support and in working with the rest of the industry that we have had quick success with the consignor model.  i am not alone in the tremendous amount of respect i have for rob and lydia and i am very excited to be working with them on this venture.
will you be featuring contemporary works or strictly historical and modern? what about international art?
we do have plans for some specialty auctions and are looking at the possibility of a contemporary or international sale among others.  the initial sale schedule will focus on important canadian works of art.
rob is one of the best live auctioneers around. any plans to utilize that talent or is he saving his voice for now?
i am going to miss seeing rob on a podium but we have not ruled out the possibility of holding a live sale.  rob will continue to volunteer his time to various charity auctions and will maintain his auctioneer license.
for more information about consignor please contact rob cowley ([email protected] / 416-409-0645), lydia abbott ([email protected]), or ryan mayberry ([email protected]).
By: theartmarket.ca