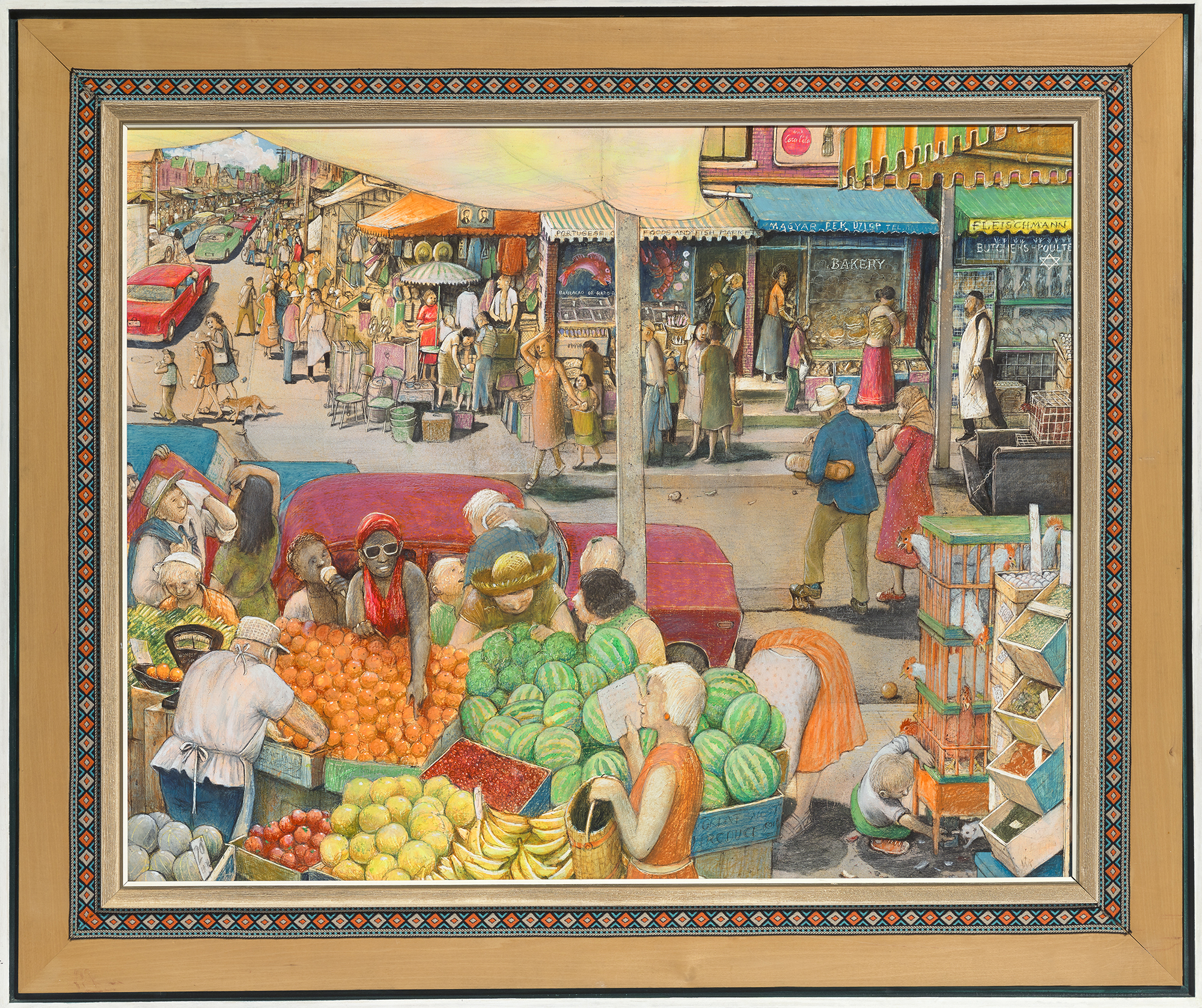 Toronto, ON (May 29, 2018) – Consignor Canadian Fine Art's Spring Live Auction of Important Canadian Art, held Tuesday evening at Toronto's Gardiner Museum, concluded with stellar results for a wide range of rare and quality artworks which celebrate Canada's diverse history and culture.
Among the exemplary works up for bid was the auction debut of William Kurelek's Toronto series masterpiece, Hot Day in Kensington Market, which more than tripled its opening bid, selling for $472,000 – the second highest auction price on record for the artist (all prices include an 18 percent buyer's premium, the lowest in the Canadian auction industry).
A second painting by Kurelek entitled Hauling Hay also easily surpassed its pre-auction estimate, fetching $94,400.
The most surprising result of the evening was a record set for renowned Canadian war artist, Charles Comfort, whose oil on board titled, Smokestacks, Copper Cliff, sold for $33,040; six-times its auction estimate of $3,000- $5,000. The painting is one of several preparatory sketches to the final canvas, Smelter Stacks, Copper Cliff, which is housed in the National Gallery of Canada's permanent collection.  The previous record for a Charles Comfort work of art was $20,700 (for Hope Island Light, Lake Huron, sold in 2005).
Solid auction results were also achieved for:
View full auction results by following this link.
About Consignor Canadian Fine Art
Since its inception in 2013, Consignor's live and online auctions have included headline-grabbing works such as a rare 100-year-old Tom Thomson portrait (Daydreaming, sold for $172,500), an undiscovered William Kurelek (Ukrainian Proverb, sold for $41,400), and Jack Bush's Summer Lake broke online auction records in May 2014 for the most expensive painting by a Canadian artist to be sold at an online auction ($310,500). Consignor's inaugural live auction event in May 2016 set the record for the highest-selling Algoma sketch by Lawren Harris, fetching $977,500, tripling the previous auction record.
Consignor Canadian Fine Art is currently accepting consignments for its upcoming auctions, including the June Online Auction of Canadian and International Artwork, with bidding open at consignor.ca from June 6-13, 2018.