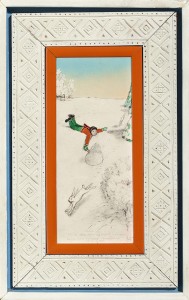 TORONTO (Victoria Ahearn, The Canadian Press – November 20th, 2014)  A wintry William Kurelek painting the artist gave to a late Toronto woman as thanks for her delicious homemade apple strudel and jam could result in a windfall for her daughter at an online auction.  Consignor Canadian Fine Art's fall sale that opened for bidding on its website Wednesday and runs through Nov. 28 has a pre-sale estimate of $15,000-$20,000 on the work entitled Ukrainian Proverb.
The painting's owner – who only wants to be identified by her first name, Christina, for privacy reasons and to avoid being solicited by potential buyers/other consignors – says she inherited the 40-year-old mixed media piece when her mother died in 2007. She figures her mother obtained the signed work some time between 1974 and '77, when Alberta-born Kurelek visited the Toronto home of a photographer he'd been working with for promotional purposes one summer. The photographer lived across the street from Christina's parents' place in the city's High Park neighbourhood and Kurelek came to love her mother's special strudel, which she brought over while visiting her neighbour.
"She always made these apple strudels that were to die for, and he had had a piece of that and said it was great," Christina, 60, said in a telephone interview. "So my mom made him some and took extra jam over the next time and extra fruit and vegetables and stuff. He ended up coming over and saying: 'This is for all the vegetables and apple strudel and jams you've given me. I really appreciate it.' It was like his mom had made … and that's how she ended up with the picture."
Measuring 25 by 11 centimetres (not including the frame), the piece depicts a child sprawled out on his stomach in the snow, holding a net while a white rabbit scurries away in the foreground and another runs toward the horizon. The child is wearing green snowpants and mittens and a bright orange jacket – a colour that's also on the frame and appears often in the work of the artist, who died in '77.
Inscribed in the lower part of the composition is a Ukrainian proverb, written in both English and Ukrainian (Kurelek had Ukrainian roots): "He who chases two rabbits at the same time catches neither." Kurelek wrote on the back of the intricately carved wooden frame, which he made himself: "Value, $400, mixed media, 1974."
The auction house calls it a "gem" that's in "excellent condition."
"This is the type of subject matter that is the most popular for Kurelek, these winter scenes speaking back to his childhood on the Prairies," said Rob Cowley, president of Consignor. "The subject matter as well is fantastic because not only does it speak to his heritage, being a Ukrainian proverb, it also speaks to this childhood, the fact that he was raised on a farm in Manitoba."
Christina said she thinks Kurelek chose that work to give to her mom because her dad was also Ukrainian.
She remembers seeing the work hung in her parents' dining room, and when she inherited it, she and her husband did the same. But with their now-adult children all moved out of the house, they decided to get rid of some stuff, and last May her retired husband brought the Kurelek work along with several other paintings to Consignor for appraisal.
Source:  The Globe & Mail
Also Published By: Yahoo! News; The Ottawa Citizen; The Cambridge Times; The Vancouver Sun; The Calgary Herald; Canada.com; 680 News; Metro News; MSN News;