Included in exhibitions for over a century and once part of the collection of the artist's family for over fifty years, Tom Thomson's Ragged Oaks makes its auction debut with Cowley Abbott this spring season. Canadian art historian and Tom Thomson scholar, Joan Murray, notes that 1916's Ragged Oaks is a magical and vigorous quintessential Thomson painting in which balance is the key to beauty, from the oaks off-centre to the foliage and bush, to the colours used throughout.
In the Cowley Abbott spring catalogue, Murray describes the power of the composition where the two oak tree trunks are depicted in a location of spectacular beauty. The leaves tumbled on the ground and the brilliant orange foliage and bush to one side balanced by bright leaves on the other reveal a scene of sparkling vitality, with all the liveliness Thomson wished to record and which appear in his best works. From the background tapestry of distant trees to the scattered logs of the foreground, the painting practically hums with energy, but the energy is matched with the harmony of Thomson's excited palette.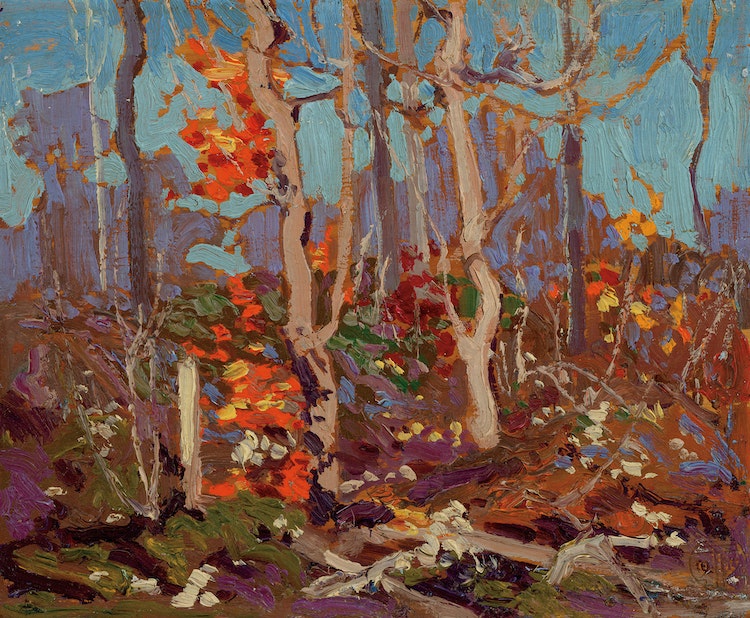 Murray describes Ragged Oaks as one of Thomson's best sketches of 1916, the artist's "golden year", where he recorded varied configurations of the trees he countered; from Ragged Oaks through to those we see in the sketches for two of Thomson's most well-known works, The Jack Pine and The West Wind.
The year is inscribed on the reverse of the panel, as well as, "Not For Sale". Not surprising, given the quality and vivaciousness of Ragged Oaks. The painting was once owned by Fraser Thomson, Tom's youngest brother. Fraser described the composition to a biographer in 1930: "A Cobalt blue sky with two ragged oak trees a little off centre with two patches of foliage in glowing color with foreground in green Brown purple manner with Blue + yellow, a real painting".
The private collectors acquired the artwork from the Fraser Thomson's family in 1971 and it was a treasured gem within their museum-quality collection. Ragged Oaks is featured in Cowley Abbott's Auction of Artwork from an Important Private Collection on June 8th.