During the 1912 Northern British Columbia travels which would result in Emily Carr's early paintings of Indigenous subjects, the artist was unable to visit the village of Kitwancool because the Gitsxan people had little time for outsiders in their community. However, in 1928, Carr was able to visit Kitwancool. Discussing her visit to the village, Carr said: "The thought of those old Kitwancool poles pulled at me." Carr would work for six days in the community, telling locals "I want to make some pictures of the totem poles…because they are beautiful."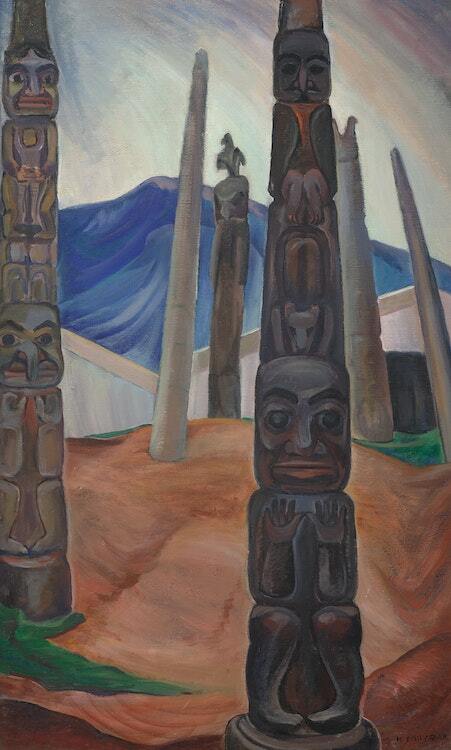 Emily Carr "Kitwancool" circa 1928, oil on canvas, 44 x 26.75 ins, Estimated: $1,00,000-1,500,000
When Carr returned to her Victoria studios, she created several canvases from her sketches. A related canvas, Corner of Kitwancool Village, now part of the McMichael Canadian Art Collection, shares compositional elements with this painting, depicting two poles in the village in some detail and shows several other poles and longhouses in the background and a distant mountain.
This painting was first shown at Montreal's Dominion Gallery in 1944, along with the McMichael canvas. Emily Carr historian, Ian Thom, believes that this canvas is the later of the two artworks and the more dynamic of the pair of paintings. Thom sees this painting as more challenging compositionally, with a vigorously delineated fore and middle ground, and Carr has made the sky in Kitwancool more active than in the earlier canvas.
Carr spoke further of her time in Kitwancool, saying "The sun enriched the old poles grandly. They were carved elaborately and with great sincerity. Several times the figure of a woman that held a child was represented." This mother figure appears, in the pole of Weer-hae, on the left of the composition.
Ian Thom notes that what is most striking about Kitwancool is how vividly Carr has captured the beauty of these majestic totem poles, proud sentinels of the Gitxsan nation. The poles are indeed "enriched" by the sunlight which streams in from the left and Carr has conveyed their sincerity and power. Kitwancool makes its auction debut with Cowley Abbott as part of the Spring Live Auction of Artwork from an Important Private Collection on June 8th.
View the complete catalogue listing for this Emily Carr work on our website, with further exhibition and provenance information. https://cowleyabbott.ca/artwork/AW42517