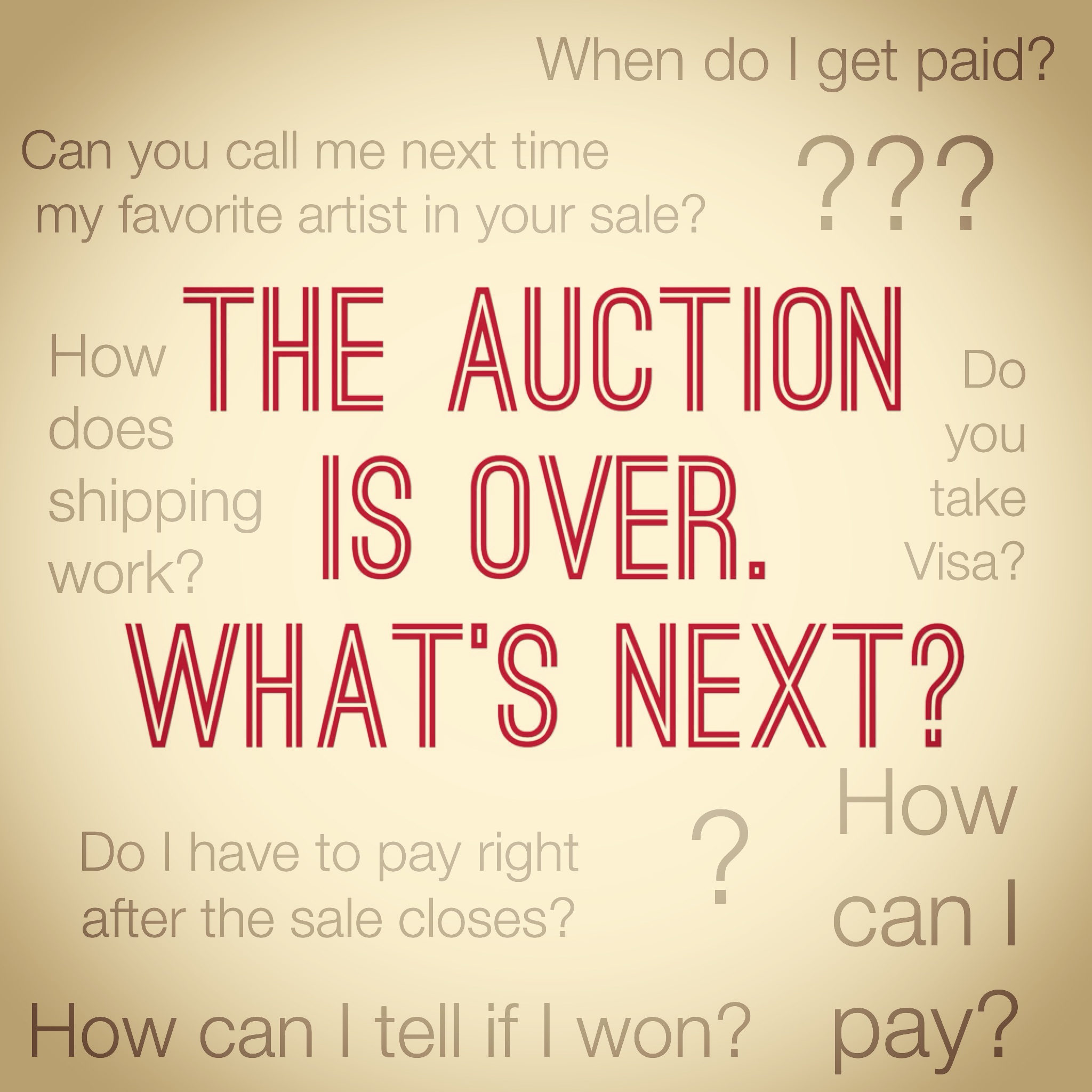 Immediately following the close of an auction, bidders, buyers and consignors typically wonder "What's next?"  We believe that transparency helps everyone navigate the sometimes confusing denouement of an auction. Below, we've answered some of the frequently asked post-auction questions.
How can I tell if I am the successful bidder?
To place a bid on an artwork in our sale, you must be logged in to your collector profile. After a lot closes, within the "Your Bids" screen, the item will be highlighted in either red or green indicating if you were successful (an "X" or "checkmark" will also be displayed). Green highlighting (with a checkmark) indicates that you've been awarded the artwork. If successful, you will also receive an e-mail notice indicating your success and the hammer price.
How soon will I receive payment following the same of my consigned artwork?
Within 30 business days. The 30-day period ensures that we have successfully received payment for each of the works sold through auction. While buyers are allowed 7 days to settle their accounts, some banking arrangements and/or international purchasers' payments can sometimes take a bit longer to be received and be processed by our accounts department.
What happens if my artwork does not sell during the auction?
If your artwork does not sell at auction, we may keep it in our gallery for up to 30 days following the close of the sale as potential buyers may choose to make a post-sale offer to purchase the artwork.  You will be notified of such an offer by a Consignor representative, providing you the opportunity to accept or decline. If the artwork remains unsold after 30 days, we advise that you make arrangements for the collection of the artwork from our offices.
Do I pay right away if I am a successful bidder?
Immediately upon the close of the sale, the successful bidder will be charged a 10% deposit (of the hammer price) to the credit card which we have on file. Full payment is then due within 7 days.
Will I receive an email or a phone call regarding settlement of my account if I was successful?
Within 3 days of the sale closing, you will receive an email from Consignor, providing you with your invoice, which will also include packing & shipping options, listing of the processed deposits and the balance owing.  We will not proceed with charging a credit card the balance until you have advised us.
What forms of payment do you accept?
Consignor Canadian Fine Art accepts MasterCard, Visa, Debit (must be completed in person), or certified cheque.
How will I know when my piece has been shipped?  When will it arrive?
All artworks are professionally packed and, once shipped, you will be provided with the tracking number of the shipment.
I live in Toronto. Can I pick up my purchase in person?
Yes, we are open from Monday to Friday between 9am and 5pm to collect your purchased artwork. Please give our office a call before your plan your visit to ensure that we may be prepared for your arrival (to keep your visit as quick and convenient as possible for you).
Can I have my artwork shipped to my office instead of my billing address?
Yes, simply contact us once you've reviewed your invoice and let us know of any changes!
Can you make a note of the artists I am interested in so that I can be notified when artworks by these artists are offered in your auctions? 
Absolutely!  When you are logged in to your collector profile at Consignor.ca, you are able to indicate artists of interest and we welcome you to contact us directly as well!
If you have any other questions or concerns regarding the details related to the "pre", "post", or duration of an auction, please feel free to contact us anytime at [email protected] or by phone at 1-866-931-8415.
Happy bidding!