Peter highlights a fantastic J.E.H. MacDonald painting included in our Live Auction of Important Canadian Art.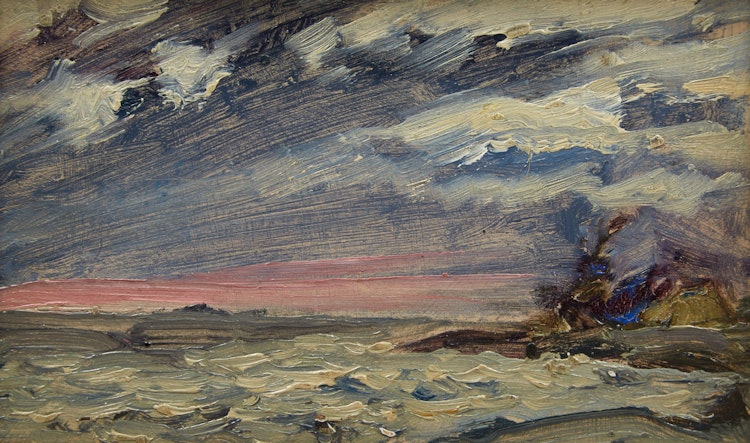 In 1911 J.E.H. MacDonald resigned from Grip Limited, wanting to pursue painting full-time. He organized an exhibition of his work at the Arts and Letters Club in Toronto. Lawren Harris attended this show and was struck by MacDonald's painting. The next year the two artists held a joint exhibition, encouraging each other to continue to paint and exhibit. MacDonald was receiving acclaim and recognition for his work, a marked sign to continue to pursue an artistic career.
In this early sketch of Georgian Bay, the location is identified as "south point of Dr. MacCallum's Island looking west". Here, MacDonald has captured the intense heavy clouds and choppy waters as they crash into the inlet. Thanks to Dr. MacCallum, Georgian Bay would become a regular destination for sketching trips for members of the Group of Seven.
1912 was an important year for MacDonald as he launched his career as a professional artist and began painting the northern landscape of Georgian Bay and the Muskoka districts of Ontario. His painting style was still heavily influenced by Impressionism and MacDonald was an advocate for the small oil sketch produced "en plein-air". As Nancy E. Robertson remarked in the exhibition catalogue for the J.E.H. MacDonald retrospective, in which this painting was included: "[MacDonald's] interest in untamed and unlimited nature…continued to develop and to urge him into new areas. He was equally attracted by the closed intimate nooks and the great open expanses of water and sky. In the large dramatic productions of nature, MacDonald assures man a place, never greater than nature but never at the mercy of nature."
To learn more about this artwork, visit CowleyAbbott.ca and book your preview appointment to view the painting in-person.