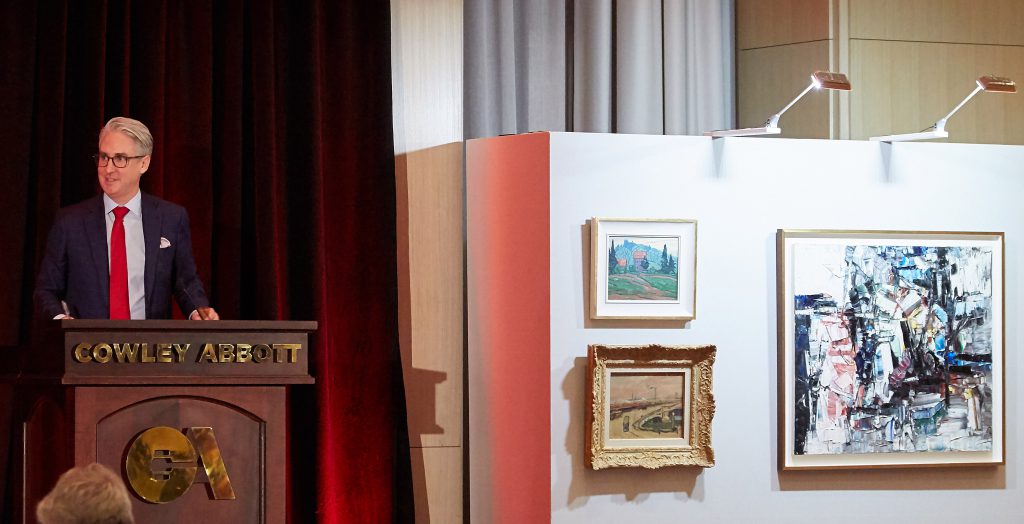 Cowley Abbott continues to smash auction records and draw competition for rare and exceptional artwork.

The Fall Live Auction of Important Canadian Art on November 22nd was a spirited evening which experienced overwhelming interest, as lively bidding was invited from collectors in-person and remotely via absentee, telephone and online participation. Providing the greatest variety of convenient options for clients this season, the sale attracted robust competition from bidders across Canada and outside of our borders. The success of the auction is solidified by a healthy 87% sell-through rate, with 55% of lots sold exceeding the high-end of the pre-sale expectation (more than 90% of the artworks sold either within or surpassed the estimate).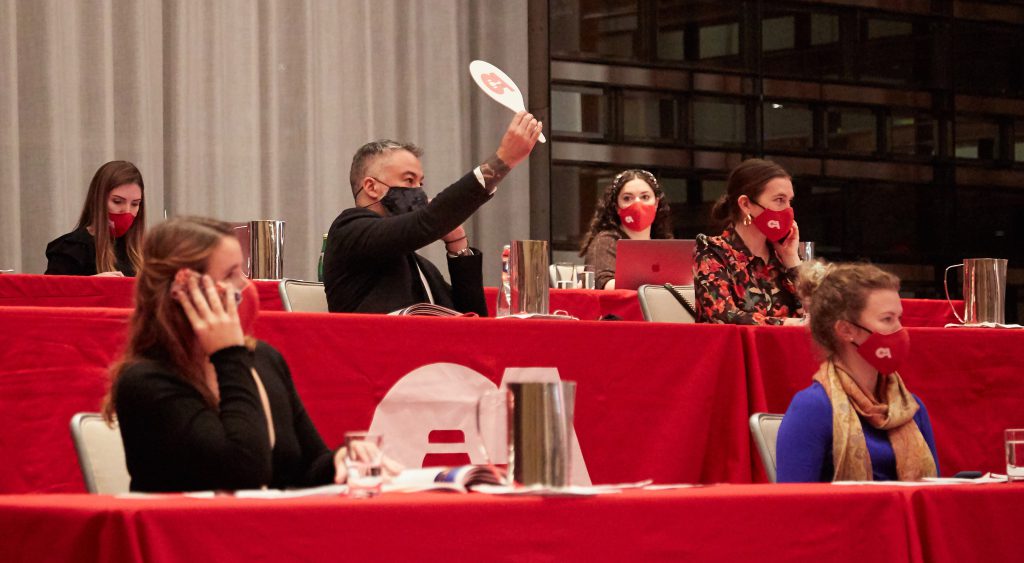 The Cowley Abbott team connected collectors with excellent artworks representing the country from coast to coast. Superior artworks by Canadian historical, post-war and contemporary artists attained overall success, as multiple records were set during the auction, including new artist records for Molly Lamb Bobak, Lawrence Paul Yuxweluptun, Wyatt Eaton and J.W. Beatty. Cowley Abbott was pleased to host a live auction with an in-person audience, allowing for both excitement and momentum to be created by the auctioneer, Rob Cowley.

Drawing ample pre-sale attention was Sans titre by Jean Paul Riopelle, a 1959 masterwork by the celebrated artist that graced the catalogue cover. Painted while the artist lived abroad, this oil on canvas has primarily been owned outside of Canada by collectors, galleries and auction houses in New York and London. The painting made its Canadian auction debut with Cowley Abbott this season, soaring to $504,000 on November 22nd. The value reached for this important work by Riopelle is one of the highest results achieved for a work dated 1959/circa 1959 by the artist.

The astounding result of a J.W. Beatty painting provided an exciting start to the Fall Auction. Early Spring, Algonquin Park soared to $168,000, smashing the pre-sale estimate of $10,000-15,000 with fierce bidding taking place between two dedicated telephone bidders. This oil on board by Beatty glorifies the beauty of the Canadian landscape in the simple representation of light and shadow. This quintessential Canadian landscape painting has been snapped up by a discerning private collector, attaining a new auction record for the artist.

Among the star highlights of the auction was a monumental 1965 canvas by Jack Bush entitled, Purple, Lime, Brown. Owned for decades by beloved singer and variety show host, Andy Williams and his wife, Deborah, this painting is a prime example of Bush's best work in oil. Executed during a significant time in the artist's career in 1965, the year in which Bush held his first solo European exhibition at London's Waddington Galleries. Bush reserved his best work from 1964 and early 1965, in total nine paintings, to impress the overseas crowd for this important exhibition. Purple, Lime, Brown was one such work. After Williams passed away in 2012, four significant Bush paintings from their collection went up for auction in 2013. However, the estate held on to Purple, Lime, Brown until March 2021, when it was sold at auction in New York. The painting then returned to Canada, after 56 years abroad, to be offered by Cowley Abbott in the November 22nd evening auction. This important 1965 work by the celebrated colour-field painter has now found its new home with a Canadian buyer after ascending to $432,000 after considerable competition between bidders at the Four Seasons Hotel. This masterwork is of similar importance and quality to Bush's Column on Browns, a canvas that set an artist record at auction selling for $870,000 at Cowley Abbott in the fall of 2020. Cowley Abbott is thrilled to have been entrusted with these phenomenal artworks.

Two avant-garde artistic groups that dominated the Quebec art scene starting in the 1940s, les Automatistes and the Plasticiens, were well represented in the catalogue auction. Rétine Ying Yang by Marcel Barbeau is a bold and mesmerizing black and white abstract canvas. A member of Les Automatistes, Barbeau was also influenced by post-war abstract movements in France. Rétine Ying Yang is aligned in formalist concerns with Op Art, an extension of hard-edge painting characterized by lines, shapes and movement that appear to the viewer as a result of optical illusions. This confident and arresting work from 1966 sold for a price realized of $60,000. Jacques Hurtubise, who was enamored with the spontaneous and gestural painting of the Abstract Expressionist, developed a unique style that straddled painterliness and hard-edge painting. Rose Slush, attaining $28,800, contains Hurtubise's signature 'gestural splash' forms.


As one of the few women artists at the centre of abstract art in Canada, Rita Letendre held an important position in Canadian art history, having produced some of the most innovative examples of post-war art. Regrettably the artist passed away shortly before our evening auction in the fall. Cowley Abbott is honoured to have been entrusted with WYKI, dating to 1975. This magnetic canvas explores her fascination with depicting speed and vibration and was greatly admired by collectors selling for $26,400.

The auction house was delighted to offer two works by the accomplished female artist, Molly Lamb Bobak. Beach Crowd is an important example of the artist's lively crowd scenes, her most celebrated subject. This cheerful and vibrant work fetched $108,000, a new record at auction for the sought-after artist. Bobak's Interior, appearing serene and static in nature, yet quietly energetic, was popular amongst collectors, selling for $22,800.

Contemporary Canadian artists continue to experience ample interest at auction. Kim Dorland, who is based in Toronto, pushes the boundaries of pictorial representation in his electric oeuvre. Alley, painted in 2006, when the artist had solidified his artistic style and was beginning to see significant success in the gallery world. The scene, with graffiti on the garage door, recalls the gritty, working-class environment Dorland grew up in and challenges the conventional notion of the romantic Canadian landscape. This gestural work realized $31,200, further solidifying his robust secondary market after Cowley Abbott set the auction record for the contemporary painter's work in spring 2021 with Green Tree Blue Tree ($66,000).

A prolific and provocative Indigenous artist, Lawrence Paul Yuxweluptun is a Vancouver based contemporary artist of Coast Salish and Okanagan descent. Landscape, Spruce Pine Beetle Kill contains many of the elements employed by Yuxweluptun to articulate, through an Indigenous lens, the impact of colonial paradigms that have led to the desecration of land and, in turn, the lives of Indigenous peoples. This critical painting that speaks to humanity across the globe exceeded the pre-sale estimate to sell for $78,000, setting an auction record for this remarkable artist.

William Kurelek, Behold Man Without God (#3) (auction estimate: $60,000 – $80,000) is a well-known image for the artist, as versions of this painting currently hang in the Art Gallery of Ontario and the Winnipeg Art Gallery. It is a decidedly personal and dark portrait of human hypocrisy. Consigned from a New Jersey collection, this detailed and noteworthy painting realized $78,000 in the evening auction.

A rare depiction of the Quebec landscape, Lawren Harris' Near Métis, Quebec appeared for the first time at auction this season. The composition drew bidder interest from across Canada the moment the catalogue was published, offering a glimpse into the little-known vacations in Quebec that the artist took in the prime years of his career. This important oil on panel fetched $114,000 and was complemented by two exquisite drawings by Harris also offered in the auction. Tonquin Valley, Jasper and Study for 'Lake, North Labrador' were both widely admired and achieved success.

Admiration for the Group of Seven was apparent with the realization of four paintings by the renowned artist A.Y. Jackson. Morning, St. Tite des Caps, a depiction of the valley northeast of Quebec City hammered down at $55,200, and St. Lawrence At Trois Pistoles, Quebec sold for $31,200. Two works gifted directly from the artist after his various visits to Onward Ranch in Cariboo, British Columbia attained $26,400 and $24,000, respectively. Paintings by Edwin Holgate and Franz Johnston experienced significant results in the auction, while A.J. Casson rounded out the Group of Seven offerings with Near Kincardine reaching $40,800 and Woodland obtaining $31,200.

Historical Canadian art demanded attention at the auction, signified by the auction record achieved for Wyatt Eaton, a Barbizon school painter. La Moisson (The Harvest) is a well-executed study for the canvas in the collection of the Montreal Museum of Fine Arts, exuding warmth, sentimentality and Eaton's skill in draughtsmanship. The gravity of this work was astutely recognized by collectors, selling for $11,400 at the Fall Auction. A rare and vibrant canvas by Arthur Heming, a favourite ahead of the auction and from the collection of General Motors, achieved $36,000. Two works by Cornelius Krieghoff were offered in the evening auction – a nostalgic winter scene with ladies and a habitant sleighing extended to $48,000, while The Old Habitant, a man in a red toque with a jug of ale in hand and an impish grin sold for $27,600.

Further interest for historical works was displayed when Girl in a Dutch Bonnet, a charming portrait of a young subject by Laura Muntz fetched $13,200. Two works by Frederick Verner were highly sought after by buyers – Elk Browsing, an 1888 oil on canvas once owned by Henry Winnett, the "Queen's Hotelier", sold for $27,500, and the first work exhibited by the artist with the Ontario Society of Artists in 1873, The Rest, Muskoka River, found a new owner for $10,800. Similarly, a serene and contemplative work be William Brymner, Longings/At the Window was a favourite amongst collectors during the previews and sold for $28,800 the night of the live auction. To no one's surprise on the Cowley Abbott team, Quebec Village in Winter by R.S. Hewton, a joyful and vibrant winter landscape, rose to $28,800, more than doubling its estimate.

One of the most anticipated lots of the evening was a rare work by J.W. Morrice, A Bridge in London (ca.1913-15). This intimate oil on board, executed while the artist was in London, soared to $192,000 from the pre-sale estimate of $50,000-70,000. An impressive result for this busy urban scene by Morrice.

A continually favoured painter amongst collectors is Doris McCarthy, an artist known for her wonderful character and effervescent personality. Two rare depictions of small towns in Newfoundland were entrusted to Cowley Abbott for the Fall Auction. Brigus, Newfoundland, a simple and bright depiction of the local architecture was competed for, selling at $78,000. Equally a beautiful depiction of the province's rocky shorelines, Bishop's Harbour, Newfoundland attained $16,800. Arctic scenes by McCarthy are widely beloved for their clear colours and simple, abstract shapes. Reflections in the Melt Water continues to explore the North through geometric forms and after competitive bidding the work was hammered down by the auctioneer at $64,900.

A prime highlight from the collection of abstract paintings in the auction were two works by William Perehudoff. AC-78-28, a vibrating and electrically coloured canvas measuring 31.25 x 94 inches achieved $48,000. Another work by the artist which pulsed with energy is AC-83-94. The bold strips of colour on this canvas caught the attention of buyers and after a frenzy of bidding a telephone bidder won at $24,000.

This Fall Auction was a delight to execute through all the stages of collecting, cataloguing, research and promotion. Cowley Abbott spent close to 150 hours previewing the 83 works of art offered in the catalogue and thoroughly enjoyed sharing and discussing the artworks with collectors and art lovers alike. The opportunity to host a live auction with an in-person audience at the Four Seasons was of supreme importance to the firm and we extend our thanks to the collectors, clients, bidders and buyers who ensured that the Fall Live Auction of Important Canadian was a triumph. We look forward to the Spring Auction and connecting further with the Canadian Art community.

View the complete Fall Live Auction of Important Canadian Art results.