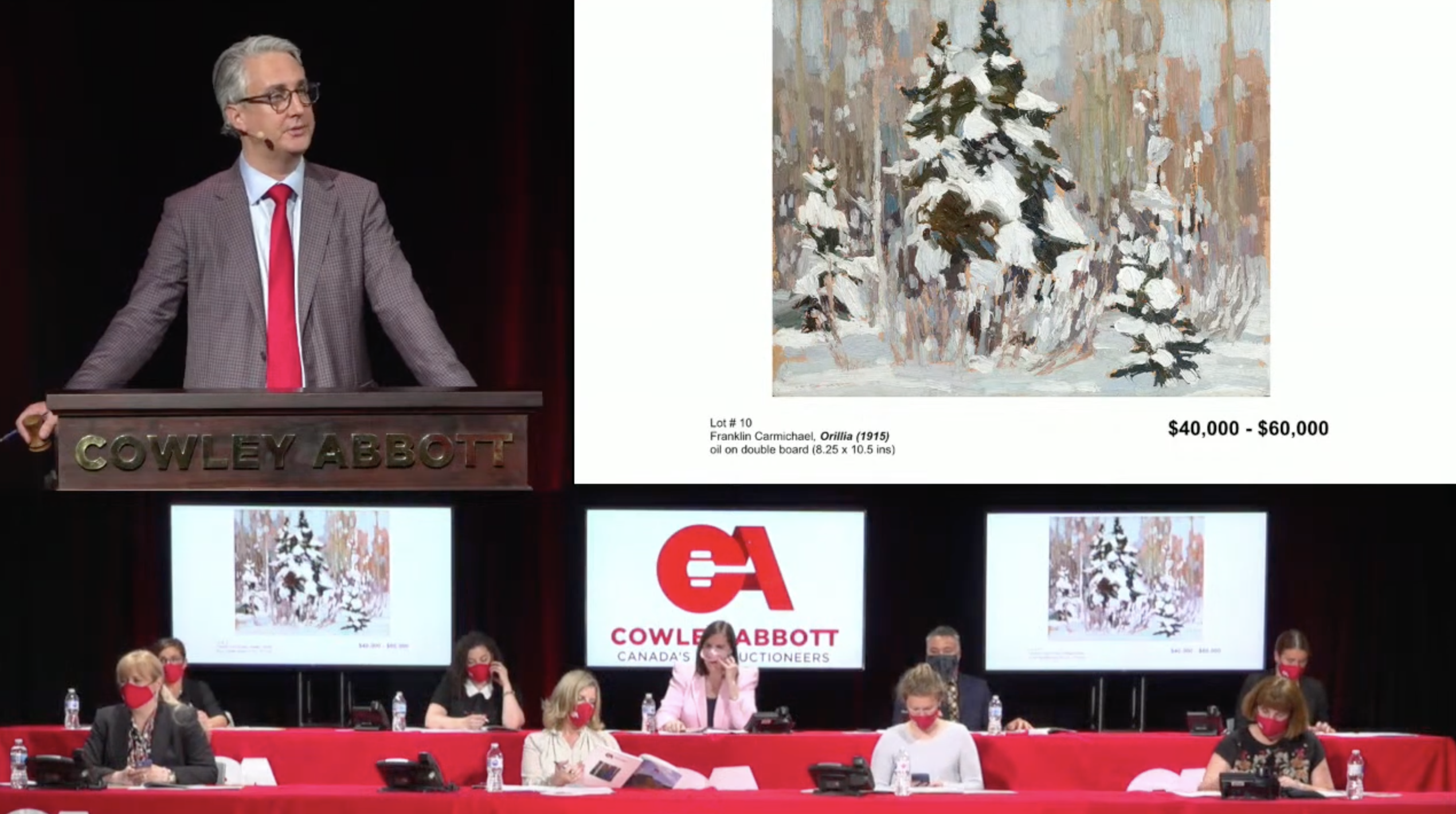 An Unprecedented 94% Sell-Through Rate and Numerous Auction Records Achieved at the Spring Live Auction of Important Canadian Art
Cowley Abbott Continues to Realize Exceptional Results for Canadian Artworks with Hundreds of Bidders Competing via Telephone, Online and Absentee at Auction
The Cowley Abbott Spring Live Auction of Important Canadian Art on June 9th was brilliantly executed and exceeded expectations. A phenomenal 94% sell-through rate was achieved, several auction records were smashed and 65% of the artworks sold surpassed the high-end of the estimate. The historical, post-war and contemporary art offerings by illustrious Canadian artists attracted a high level of engagement from collectors. The live auction invited hundreds of bidders and thousands of bids via absentee, telephone and online and was executed flawlessly from start to finish. 
Our firm has continued to adapt, evolve and grow with the changing climate of the auction industry during the global Covid-19 pandemic. Our combination of innovative and industry leading technology, combined with professional customer service and a sincere passion for art has ensured that we remain engaged with the Canadian art community through every possible avenue.
The monumental cover lot, Amber Pass by Ivan Eyre, made its auction debut during the evening sale, surpassing the pre-sale estimate after much spirited bidding to realize $228,000. This canvas is a prime example of Eyre's large-scale landscapes and was met with avid interest from the moment of the publication of the catalogue. Acquired directly from the collection of the artist, this captivating painting is a fantastic addition for an astute art collector. 
Cowley Abbott was pleased to be entrusted with two works by the accomplished Alberta-born contemporary artist, Kim Dorland. Green Tree Blue Tree, a commanding oil, acrylic and spray paint on wood panel painting, which was included in the 2013 McMichael Canadian Art Collection exhibition, You are Here: Kim Dorland and the Return to Painting, soared to a new auction record of $66,000.  Untitled, another painting by Dorland that explores Canada's long-established tradition of landscape painting also found a new home selling for $18,000. Records were further smashed by another Canadian contemporary artist, John Hartman, as The Old Port and Mount Royal exceeded pre-sale expectations to sell for $24,000. 
The auction house was delighted to offer an early painting by Franklin Carmichael, Orillia (1915), for the first time at auction. The impressionistic winter scene originally belonged to the family of the artist and was passed down to the current Ontario private collection. This charming painting was completed prior to the formation of the Group of Seven and, as anticipated, feverish bidding ensued when the lot opened for bidding, eventually hammering down at $144,000. 
A rare and early canvas by celebrated artist A.Y. Jackson, which was extensively exhibited and belonged to the painter's brother, garnered ample attention in the weeks leading to the auction to extend to $90,000 in the evening auction. October Morning, Épisy was painted "en plein-air" by Jackson in 1909, and the composition showcases his mastery of light at the age of 27, more than a decade before the Group of Seven would be formed. This canvas was complemented by four other exquisite oil sketches by Jackson offered in the auction, which were all admired and achieved success.
Historical Canadian art demanded attention at this auction, as fierce bidding was ignited between telephone and online bidders for a nostalgic landscape painting by Homer Watson. This detailed 30 x 40-inch canvas commanded a final value of $38,400. A distinctive and self-assured work by David Milne executed in watercolour circa 1913 was a favourite amongst clients, achieving $33,600. The beautiful Portrait of Louise by Cornelius Krieghoff, an intimate and tender portrait of the artist's wife, found a new home at $18,000, while the first lot in the auction by the distinguished J.W. Beatty, Farm Machinery, possibly executed while the artist was an official war artist in France of 1918, sold for $11,400. Further interest for historical artworks was displayed with a vibrant oil by Arthur Lismer, Fisherman's Gear, Cape Breton Island, Nova Scotia achieving $24,000, while fellow Group member, the renowned Lawren Harris, drew attention with the offer of an important drawing executed in 1930 while on a trip with A.Y. Jackson. Arctic Tent, Pangnirtung, Baffin Island is one of a number of preparatory sketches produced by the artist while on this trip, with only three oil sketches of an Inuit tent within a landscape later painted. This rare work on paper sold for $20,400. 
Further records were shattered at the evening auction, with appreciation shown for Prudence Heward of The Beaver Hall Group. A leading figure painter in the 1920s and 1930s, Heward's Mrs. Decco (1940) was extensively exhibited in the 1940s and was originally acquired from the estate of the artist. This powerful portrait attracted attention from collectors from the instant the catalogue was produced and ascended to $90,000, setting a new auction record for the artist. 
Cowley Abbott was pleased to be entrusted with numerous works by accomplished Canadian female artists, of which many experienced vigorous bidding during the June 9th auction. Notably, four paintings by Maud Lewis were met with enthusiasm, with competitive bidding taking place between absentee, telephone and online bidders. White Kitten in a Tea Cup, a rare and witty work by the beloved Maritime artist reached $38,400, quickly followed by At the Train Station selling for $44,440 and Surprised Deer for $28,800. The surprise of the evening was Flowers in Red Pot, painted around 1967, one of a small number of flower pot paintings executed by Maud Lewis, which broke the auction record for the artist by selling for $48,000. The results accomplished by Maud Lewis were remarkable, with the price realized of three of these works being the highest price ever paid at auction for a work by Maudie.  
Molly Lamb Bobak Cafeteria, a rare and intimate portrayal of the activities at home during the Second World War, sold for $7,200. An additional popular work by Bobak, Flowers 4, hammered down at $10,200. Pegi Nicol MacLeod, another artist from Eastern Canada, received ample attention in the lead up to the auction. Bunks, a striking watercolour completed while an official war artist during the Second World War fetched $7,200, while the energetic and ebullient Centennial Parade (Fredericton) attained $18,000.
Two paintings by Toronto favourite Doris McCarthy were sought after: Barachois sold for $9,600 and The Pines at the Keyhole for $4,800. Quebec female artists Marcella Maltais and Lise Gervais were represented in the auction. Rébellion by Maltais, an accomplished 1957 abstract oil on canvas reached $18,000 and the enigmatic La Voie d'Enfer (1959) by Gervais ascended to $31,200, to the delight of collectors. A diminutive abstract by Rita Letendre found a new home at $11,400 and Marian Mildred Dale Scott rounded out the offerings with a circa 1966 experimental geometric abstraction selling for $7,200. 
The Spring Live Auction witnessed solid prices for a wide range of post-war works of art, including the art of Jack Bush: Girl with Red Hair blasted through the pre-sale estimate to reach $48,000; The Red Square, originally in the collection of the artist, sold for $10,800; and House on the Highway completed in 1947 sold for $7,800. Perhaps the most interesting work by the artist included in the June 9th auction was Untitled (circa 1958), which hammered down at $27,600. This brightly coloured gouache made its debut at auction with Cowley Abbott and was painted during a key period when Bush was breaking away from figurative painting to embrace abstraction. What is particularly notable about this work is the fact that it was a gift from Jack Bush to fellow Painters Eleven member, William Ronald. As recounted by his widow, Helen Ronald, the two artists met up one day in 1958 so that Bush could show Ronald the new direction he was taking in his painting. During this encounter, Bush presented the colourful gouache on paper to his friend as a gift. Ronald was so impressed and touched by the artwork that he held onto it for the remainder of his life.
A key highlight in the auction were two exceptional paintings by William Kurelek. One painting was originally owned by the estate of the artist, Haystacks and Ducks (Ukrainian Series). This was one of the final paintings completed by the artist, a rare discovery, which sold for $55,200. In the 1973 The Grouse Mountain Sky Ride, Kurelek depicts the summer activities of the popular Vancouver ski destination, Grouse Mountain Resort. This mixed media on board was  favoured amongst collectors, selling for $60,000. 
A variety of post-war offerings also drew competitive bidding during the spring catalogue sale, breaking auction records. Midsummer Dawn, Percé by the Scottish-born Canadian artist Charles Comfort was completed in 1977 on one of his trips to Quebec. This outstanding depiction of an iconic landmark soared through an auction record previously set by Cowley Abbott for the artist, to achieve $43,200. Doug Morton, of Regina Five fame, was represented in the sale by Two with Grey (1965). The vivid colours which energize the pictorial space of this masterful work caught the attention of many, setting an auction record for the artist at $26,400. 
Multiple distinctive sculptures by Sorel Etrog were featured in the auction, a significant sculptor known for his dynamic and elegant creations. Cowley Abbott was thrilled to be entrusted with six phenomenal works by the artist: the sophisticated and stoic sculpture of Manon, standing at just under five feet was met with lively bidding to $102,000. Steady interest from collectors was apparent for four diminutive bronze works by Etrog, including Solo Study for $22,800, La Mer Study for $9,600, Study for Madonna Bust for $9,000 and Magic Barrel for $6,600. The expressive Homage to Dr. Martin Luther King, with its contained emotion and marked reverence for the revolutionary figure attained $33,600. 
We extend our thanks to the collectors, clients, bidders and buyers who helped to ensure that our Spring Live Auction of Important Canadian Art was a triumph. We look forward to continuing to provide the highest level of engagement and service to collectors in the industry and are currently accepting consignments for our forthcoming live and online auctions. If you feel our firm can be of service, we would be pleased to provide a complimentary and confidential consultation. Please contact our specialists at 1-866-931-8415 or [email protected].