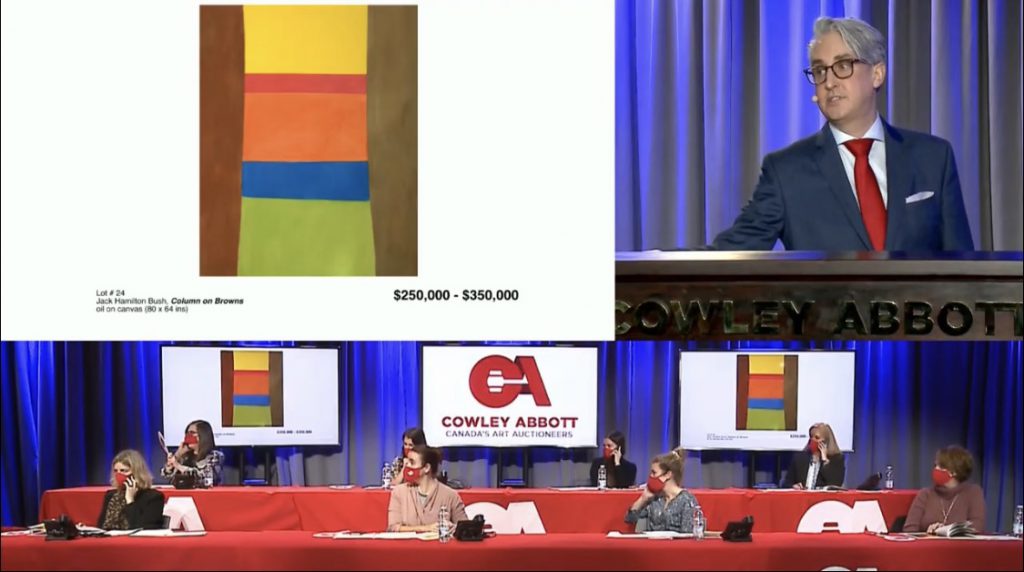 Cowley Abbott, A Leader in the Canadian Auction Industry, Continues to Realize Strong Results for Canadian Historical, Post-War and Contemporary Art at Auction
The Cowley Abbott Fall Auction of Important Canadian Art on December 3rd was a resounding success, attaining excellent results and connecting collectors with superior artworks by renowned Canadian artists representing the country from coast to coast. In several instances, collectors participating over the telephone and online drove bidding to record levels, leading to the unprecedented values reached for select works by celebrated Canadian historical, post-war and contemporary artists.
A monumental masterwork by Jack Bush, Column on Browns, made its auction debut, soaring to a new world auction record of $870,000, after spirited bidding took place over multiple platforms. This captivating canvas was featured in major international exhibitions, including "Colorists 1950-1965" at the San Francisco Museum of Art and the Sao Paulo IX Biennial in 1967. The commanding work from Bush's golden period of the mid-1960s was met with much admiration and excitement from the moment of the publication of the catalogue and is a remarkable addition to any discerning art collection.
The auction house was delighted to be entrusted with another seminal work by Jack Bush, Summer Gone, the first triangle-shaped canvas executed by the artist as part of a series of shaped canvases in August 1976. The shape of Summer Gone is an irregular triangle with different lengths on all three sides, allowing Bush freedom from the restrictions of the traditional picture plane. Bush only created four triangle paintings, with this rare canvas selling for $90,000.
Cowley Abbott was again delighted to offer numerous works by accomplished Canadian female artists, many of which garnered energetic bidding during the Fall Auction, notably Emily Carr's Forest Glade (Dark Glade), reaching $216,000. This painting radiates with compositional energy, eloquently capturing Carr's deep connection to the wild, untamed beauty of the forest. Rita Letendre, an electric and dazzling painter, demanded attention with three works by the celebrated artist selling well overestimate. Untitled reached $28,000 and Manotik sold for $20,400 – airbrushed compositions of forceful chevrons and diagonal bands of exploding colours, both from the most celebrated period of Letendre's artistic oeuvre. Dorothy Knowles, a beloved Saskatchewan painter, saw reward with the enigmatic canvases, The Noon Sun ($7,000) and Bright Weeds ($26,400).
Further records were smashed in the December 3rd evening auction, with appreciation shown for Painter's Eleven's artist, Tom Hodgson. An energized, abstract masterpiece, Non Objective (Bluish), found a new home selling for $60,000, an auction record for the multitalented painter and athlete. Fellow member of the Painter's Eleven abstract artist's collective, Ray Mead, was much sought after in the lead-up to the auction, with Untitled, a 1959 painting fetching $15,600.
Attention for historical Canadian art was strong, as Surf, Barbados, B.W.I by J.E.H. MacDonald commanded a final value of $21,600 and a dynamic, yet diminutive oil on board by J.W. Morrice, Coast, Brittany, sold for $45,600. Rain on the River (Morning on the River) by David Milne, a favourite artist amongst collectors, achieved $40,800. Ungava Bay by A.Y. Jackson, a sketch for a canvas in the collection of Hart House, hammered down at $48,000, representing the artist's vision and connection to the Arctic landscape. Another success in the historical realm was Martello Tower, Montreal by Ethel Seath, selling for $24,000.
Cowley Abbott was entrusted with a painting by the esteemed artist and physician, Sir Frederick Grant Banting. 2021 marks the centenary of the discovery of insulin by Banting, a momentous discovery that changed the lives of millions of people and for which he was awarded the Nobel Prize for Medicine in 1923. Island, French River, Ontario, suffused with colour, light and shadow, sold for $31,200, a brilliant result for this historical Canadian figure.
A founding member of the Professional Native Indian Artists, established in 1973, Dene and Anishinaabe (Salteaux) artist Alex Janvier of Cold Lake, Alberta, was an integral component of the auction. Shoreline Existence, a striking acrylic on canvas, set a new auction record at $31,200 after competitive bidding.
Three automatic works by Jock Macdonald executed in 1947 well exceeded their pre-sale estimates with vigorous telephone bidding the night of the auction. Untitled (Two Creatures) sold for $6,600, Prehistoric World for $10,200 and New Fruit for $7,800.
A prominent member of the Automatistes, Jean Paul Riopelle's Dieppes (1966) sold for $130,500, while his small but mighty painting, Sans titre, 1970, had collectors clambering, achieving a final selling price of $52,800. The works of Ted Harrison were again met with avid interest – Yukon Priest selling for $19,200 and The Walk finding a buyer at $10,200.
The impressive results of the Fall Auction of Important Canadian Art are due to the active participation of both new and old bidders alike, as well as the unwavering support of the Canadian art community. We extend our sincere gratitude to the clients, bidders and buyers who helped to ensure that our Fall Live Auction was a triumph.
The new year begins with an exciting season of online auctions, offering a wide range of artwork for all levels of collectors. The team at Cowley Abbott is already hard at work preparing the tremendous offerings to be presented in the Spring Live Auction of Important Canadian Art and we greatly look forward to sharing the catalogue in the coming months. Cowley Abbott is currently accepting consignments for its upcoming auctions and if you feel our firm can be of service, we would be pleased to provide a complimentary and confidential consultation. Please contact our specialists at 1-866-931-8415 or [email protected]