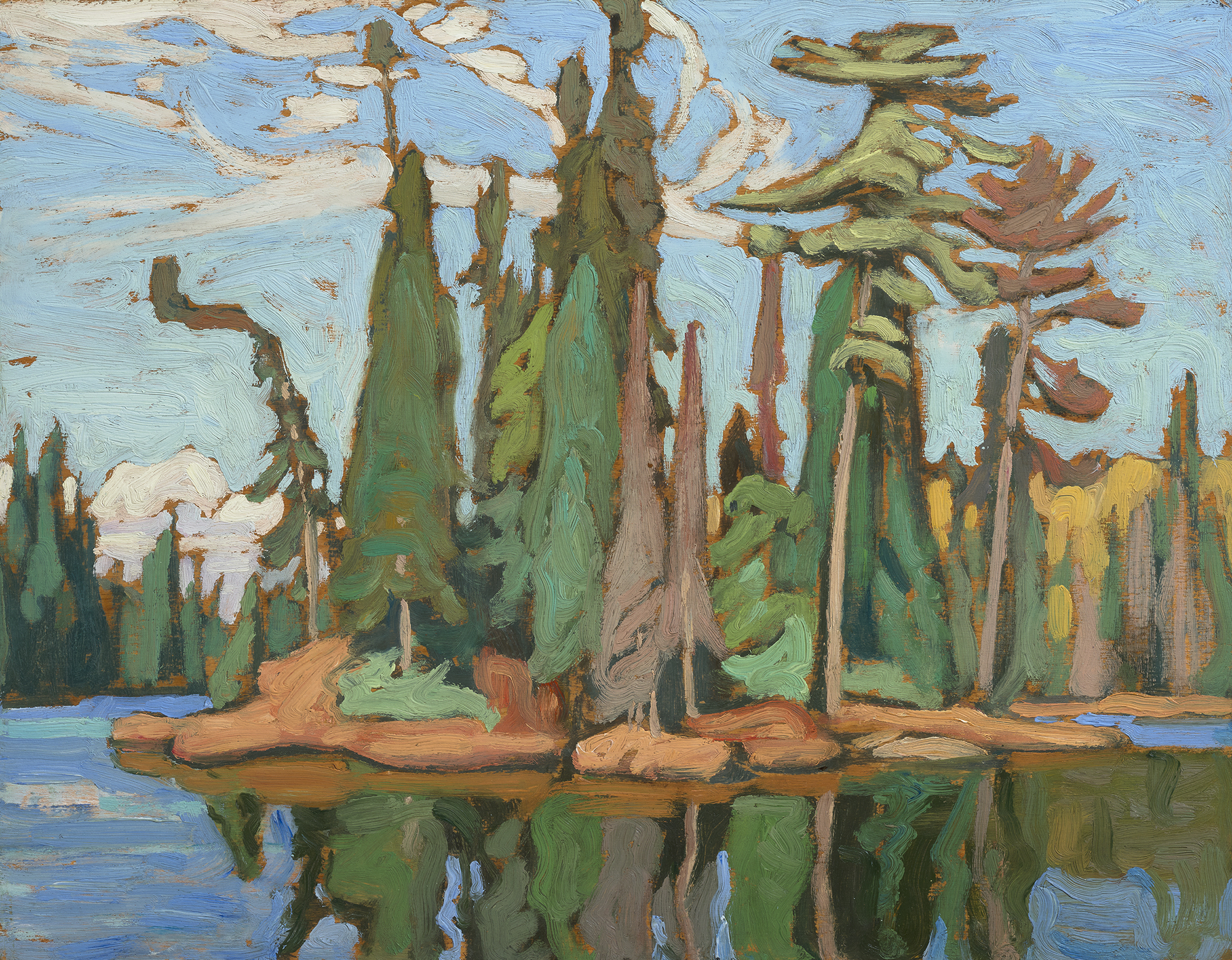 Harris Among Important Canadian Artists Highlighted in First-Ever Live Auction Event for Consignor Canadian Fine Art on May 31, 2016
(Toronto – March 31, 2016) – An exceptional Lawren Harris oil sketch that was recently discovered in a private collection half way across the globe in Australia, will debut on the auction block nearly 80 years since it was first acquired from a Toronto gallery in 1940.  Algoma (Algoma Sketch 48), an autumn oil sketch painted by Harris in 1919/1920, during the time when the Group of Seven officially formed as an association of painters, is expected to fetch $400,000 to $600,000 at Consignor Canadian Fine Art's inaugural Live Auction of Important Canadian Art, taking place at the historic Berkeley Church, in downtown Toronto on May 31, 2016.
In addition to its pristine condition, the value and rarity of this particular Harris sketch stems from the fact that it served as the preparatory work for several of the artist's well-known large canvases including Island, MacCallum Lake (1921) part of the collection of the Vancouver Art Gallery; as well as for three others: Northern Island, Northern Painting XXV, 1924; Northern Painting 25, Northern Island II; and Island, Northern Painting XXI, which are all believed to currently reside in private collections.  Harris first visited the Algoma region of Ontario in 1918 and returned on multiple occasions with fellow members of the Group of Seven. Algoma Sketch 48 was acquired by an anonymous buyer in 1940 from the historic Laing Mellors Gallery in Toronto, later travelling with the family when they moved overseas.
"We're thrilled to offer such an exemplary example of Lawren Harris' work in our first live auction," said Rob Cowley, President of Consignor Canadian Fine Art.  "It has become increasingly rare to find a Harris preparatory sketch for any of his well-known works, let alone four.  We made the trip to Australia to secure the consignment personally from the client and we are delighted to be introducing this important artwork to Canadian collectors."
Lawren Harris is one of Canada's most celebrated artists, and his works are currently at the height of popularity with the much-lauded retrospective The Idea of North: The Paintings of Lawren Harris, co-curated by actor, comedian and art-collector Steve Martin, anticipated to make its Canadian premiere at the Art Gallery of Ontario in July 2016.
Several weeks of live previews will begin during the first week of May at the Consignor Canadian Fine Art Gallery located at 326 Dundas Street W. Consignor's inaugural live Spring Auction of Important Canadian Art event will take place on Tuesday, May 31, 7:00 pm at the Berkeley Church, located at 315 Queen St. E in Toronto, ON.
"Through careful consideration and feedback from our clientele, we decided that it was time to begin this new chapter for Consignor," said Lydia Abbott, Managing Director of Consignor Canadian Fine Art.  "It is with great enthusiasm that we announce our first live auction of Important Canadian Art this spring with an exciting selection of artwork, including work by many of the most sought-after artists in the art market right now."
The live auction event begins a new tradition for Consignor, augmenting its current slate of notable online auctions established over the past three years through Consignor.ca.  Since its inception in 2013, Consignor's auctions have included headline-grabbing works such as a rare 100-year-old Tom Thomson portrait (Daydreaming, sold for $172,500) and an undiscovered William Kurelek (Ukrainian Proverb, sold for $41,400).  Consignor's offering of Jack Bush's Summer Lake broke online auction records in May 2014 for the most expensive painting by a Canadian artist to be sold at an online auction ($310,500), and its June 2014 auction saw eight artists' records broken.
Consignor is also viewing artwork for consideration for the upcoming Online Auction of Canadian Art, acting as the second session to the live sale, with bidding open at Consignor.ca between June 1 – 8, 2016.